Man Finds A Box Of Abandoned Puppies — Who Are Actually Bears
They were wrapped in a sweatshirt 💔
In late January, the Camden County Sheriff's Office in North Carolina received what they thought was a sad, but not entirely surprising, call. A man had returned home to find a cardboard box holding two little puppies dumped on his lawn.
The tiny animals were wrapped in a gray sweatshirt to protect them against the winter chill.
The deputies arrived at the man's house to pick up the puppies — only to discover something much more remarkable. The little animals curled in the box, each weighing less than a pound, were actually black bear cubs.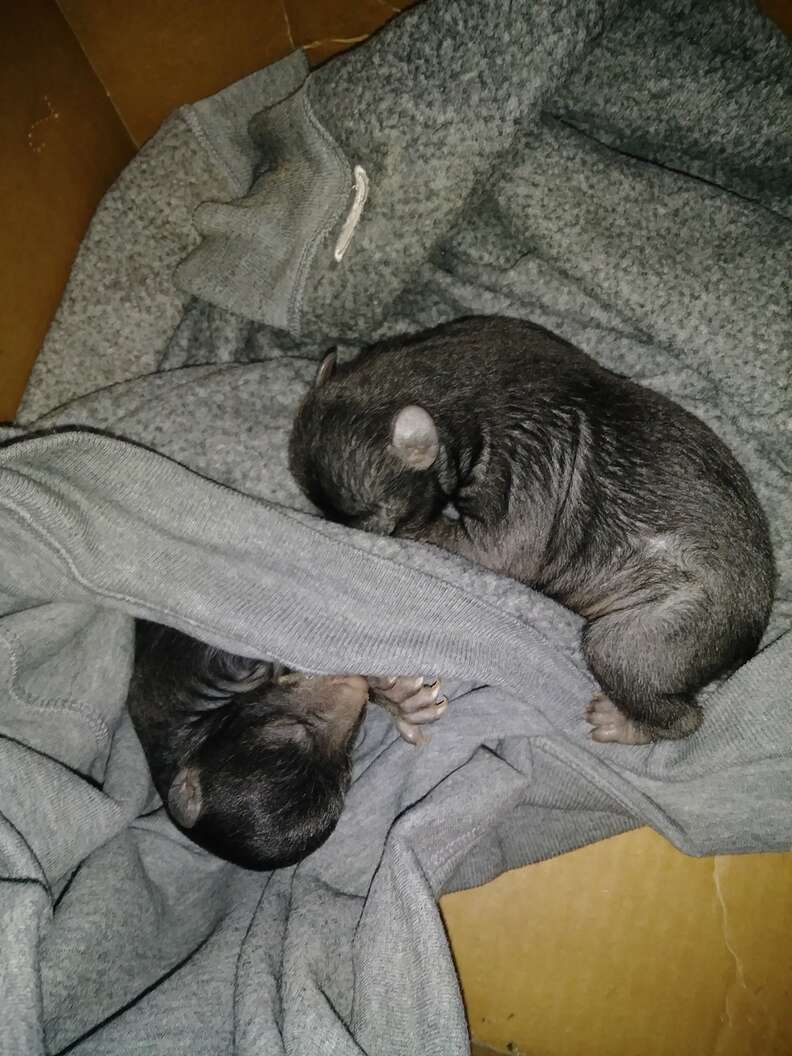 Knowing that the cubs' survival was on the line, the deputies rushed the babies to the North Carolina Wildlife Resources Commission (NCWRC).
When mother bears give birth in January, the defenseless cubs are kept warm by snuggling into her large body as she breathes on them. Their attentive mom is tasked with keeping them clean, fed and warm in her den while trying to sneak in a quick nap here and there.
At less than 3 weeks old, the cubs had little hair and could hardly crawl. They were entirely dependent on their mom, but something had gone wrong.
The cubs were evaluated and transferred to the agency's experienced black bear rehabber who specializes in caring for young cubs. "This person has more than 25 years of experience rehabbing bear cubs, and is only one of the few in the eastern United States, if not the U.S., who can do this type of rehabilitation," Jodie Owen, public information officer with the NCWRC, told The Dodo.
The little bears are proving to be fighters, and have made it through a few tense weeks thanks to the rehabber's round-the-clock care.
"The cubs are not out of the woods quite yet," Owen said. "Bears this young rely heavily on their mothers' milk, and the key ingredient in that milk, colostrum, and these cubs were removed from their mother during this critical time of their development."
Once the bear siblings are healthy and strong, they will be returned to the wild — where they belong. And, with any luck, they will start little families of their own.
If you find an orphaned wild animal in North Carolina, do not attempt to feed or care for it. Instead, the NCWRC suggests you call the Human-Wildlife Interaction hotline, at 866-318-2401 or email hwi@ncwildlife.org, for further information.