This Bear Has Been Used To 'Train' Dogs Her Whole Life
You can help save her from this awful place.
At first glance, a bizarre kind of "station" in Ukraine doesn't seem like much: a few freestanding buildings and something that looks like a gazebo.
But a cage in one corner of the compound holds a brown bear named Kvitka — and what she has endured there for years is almost unimaginable.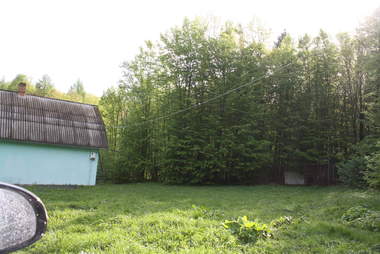 Four Paws
Kvitka has spent most of her life in a cage. The 8-year-old bear has spent the past six years at this "station." And before that, she lived in another place like this in Eneyko. When she's allowed outside of her cage, she's used for a practice called "bear baiting."
"She was used for dogfights and bear/dog training at the baiting station. The current manager of the station confirmed this when our team initially visited the station," Claire LaFrance, communications director at Four Paws International, told The Dodo. "According to the manager, around 30 dogs are kept at the baiting station ([our] team could hear them barking), also badgers and boars. Selected dogs are sent for baiting contests from time to time to various regions of Ukraine."
Four Paws
People at Four Paws managed to obtain footage of what this practice looks like: Terrified bears, often weakened by underfeeding, are chained up to a post while hunting dogs circle them. Sometimes the bears' claws have been painfully removed have no hope of defending themselves.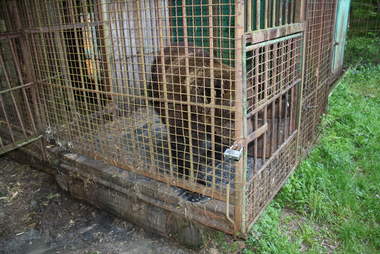 Four Paws
Bear baiting is technically illegal, but in some places it still goes on. And so Four Paws has been working to negotiate with bear owners to give up the animals to sanctuaries where they can live among their own kind and reclaim some sense of normalcy. 
"We are raising funds in order to pay for Kvitka's rescue, transport, veterinary bills and her lifelong care at our sanctuary," LaFrance said.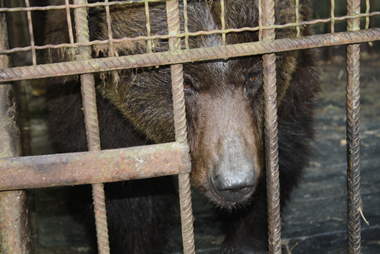 Four Paws
"In her young life, Kvitka has experienced a lot of pain and stress," Four Paws wrote in its appeal, "but we now have a chance to free her. We want to do this as quickly as possible to make sure that she is not harmed any further."
Four Paws estimates that there are still 10 to 20 bears in Ukraine who are subjected to bear baiting, which is why the organization has been working with the government to crack down on the practice and enforce the ban.
"The extreme psychological stress and the many injuries caused by the dogs and the poor keeping conditions mean that most of the bears can only be used for a short time for baiting," Four Paws explained. "They are then often sold to zoos or restaurants as tourist attractions. Some even end up stuffed, as trophies."
Four Paws
Rescuers hope to bring Kvitka to the Bear Sanctuary Domazhyr, a refuge for bears like Kvitka that opened in 2017 and has the capacity to house dozens of formerly abused bears.
"In her new home she will be surrounded by green forests and can meet other rescued bears," Four Paws wrote. "Under the expert care of veterinarians and bear specialists, she can hopefully leave her ordeal behind her soon and enjoy her new life."
Four Paws
For Kvitka, that day cannot come soon enough.
The Dodo will continue to follow Kvitka's story.