Monkey Parents Have The Best Reaction When They See Their Baby Again
He'd been gone for three weeks and they thought they'd lost him forever ❤️️
Pearce's family probably thought they'd never see him again. But when the little monkey returned to them, they couldn't contain their happiness — they wrapped their arms around him, and didn't let go for a long time.
Last month, a student at Kingsway High School in Amanzimtoti, South Africa, spotted a young vervet monkey in need of help — he had seriously injured his leg, likely after getting caught in barbed wire.
The student contacted Umsizi Vervet Rescue Center, a rescue organization run by Tracy Rowles, and a team of volunteers went out as quickly as they could. But catching Pearce was no easy feat.
Pearce in a cage after being rescued

| Umsizi Vervet Rescue Center
"We tried for three hours ... but his overprotective mother would not allow us close enough to catch him by hand," Nigel Wright, a volunteer for Umsizi Vervet Rescue Center, told The Dodo. "So we came back the next morning with a metal cage that we use to trap injured monkeys."
The rescue team put some food in the cage, and this did the trick — within 10 minutes, Pearce had been caught.
Pearce's family members were furious — they probably thought the team was trying to hurt Pearce.
Pearce inside of a transport carrier

| Umsizi Vervet Rescue Center
"Some tried to open the door to release him, while others displayed threatening behaviour towards us by grunting and showing their teeth and making their eyes wide open and coming towards us," Wright said. "Vervet monkeys have huge canine teeth that are razor-sharp and would inflict serious damage if they bite you."
Despite the dangers, the rescue team didn't waste a minute — they sedated Pearce, wrapped him up in a warm blanket and drove him to a vet clinic, where he got 10 stitches. Then Pearce went to the Umsizi Vervet Rescue Center to recover, though he used every opportunity to act up for the rescue team.
"He was very confident and very cheeky, and he would show his frustration by throwing his blankets around as well as his water bowl," Wright said.
Pearce and his friend at the rescue center

| Umsizi Vervet Rescue Center
To help Pearce relax, the rescue team gave him a friend.
"Another injured 1-year-old baby was placed into the cage with him," Wright said. "He soon took this scared little girl under his wing and hugged her and held her tight, each finding comfort in each other."
When Pearce got his stitches out three weeks later, it was time for him to go home. But finding Pearce's family wasn't simple. Monkeys tend to roam many miles each day, and Pearce's troop was no exception.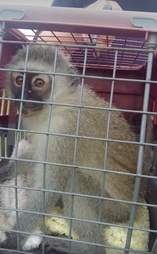 Umsizi Vervet Rescue Center
"Just as we were about to give up for the day, we spotted two grey bodies ... in the school soccer fields," Wright said. "We drove to the school and walked across the soccer field to be greeted by 30 very unhappy monkeys. As we got closer, they again displayed threatening behavior towards us."
Pearce's family had recognized the rescue team — and Pearce recognized his family.
"Pearce showed us he was happy and that it was definitely his troop by calling to his mother and by tumbling around in his carrying cage," Wright said. "If it wasn't his troop, he would have just laid flat in the cage and pushed himself into a corner."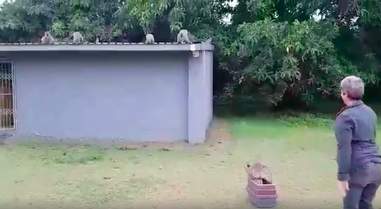 Umsizi Vervet Rescue Center
The team set Pearce's cage on the ground and opened the door.
"With a quick hop, he was out of the cage," Wright said. "He took a quick look back at us and then ran across the grass and up the gate to the arms of his mother and siblings."
A large alpha male, who is presumably Pearce's dad, also greeted Pearce.
"If you watch the video, you will see the alpha male come and stand beside the mother holding Pearce," Wright said. "She reaches out and touches the alpha male. It made us wonder whether it was just a touch of reassurance to calm him down, or maybe to say, 'Our son is back.'"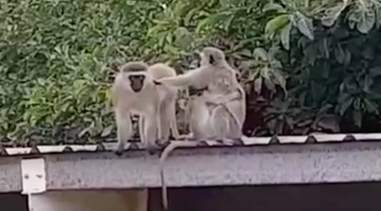 Pearce being greeted by his family members

| Umsizi Vervet Rescue Center
"We will never know, but it made the release so much more rewarding and hugely emotional for us," Wright added.
For the past 11 years, the Umsizi Vervet Rescue Center has cared for hundreds of vervet monkeys, many of whom have been hit by cars, shot, poisoned or otherwise injured. To help the organization rehabilitate more monkeys like Pearce, you can
make a donation
.