Person Taking Out Trash Finds Someone Unexpected In The Bin
Someone threw him away like trash 😞
A resident of West Yorkshire, England, was taking out their trash on Tuesday afternoon, but as they went to put the bag into the garbage bin, they noticed something strange at the bottom of the bin — and it was moving. The resident quickly realized it was a tiny baby corn snake who had somehow been thrown away amongst the trash, and immediately contacted the RSPCA for help. 
"The caller must have had quite the shock — the last thing you expect to see when you go to put your rubbish out is a snake slithering around inside the bin," an anonymous inspector with the RSPCA said in a press release. "We asked them to confine the snake by shutting the lid of the bin and I went along to collect the little snakelet." 
RSPCA
Luckily, the baby snake seemed to be in good condition, and was taken to a local reptile center for specialist care. It's possible that the snake is someone's pet who escaped from his enclosure, but sadly, the RSPCA has a feeling that's not the case.
"Unfortunately, given that the snake was found inside a wheelie bin — with no obvious way of getting in or out of the bin — I suspect it has been dumped which is very sad," the inspector said.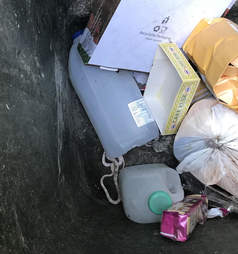 RSPCA
Snakes are often abandoned by their owners shortly after arriving in their new homes because the owners didn't adequately research and prepare for their new family member, and are unequipped to care for them. The RSPCA is urging everyone to do their research before welcoming any new pet into their home, to make sure they're ready for the responsibility.
"We are seeing a worrying number of snakes coming into our centers, because owners are no longer able to care for them," Nicola White, exotics senior scientific officer with the RSPCA, said in a press release. "The main thing we want to stress to people who are thinking about bringing an exotic pet into their family is to … research the needs of the animal thoroughly and make sure that you can provide everything that animal needs for the animal's entire life."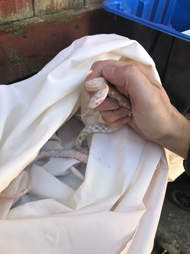 RSPCA
The RSPCA currently has dozens of snakes in its care, all looking for loving forever homes, and would love for anyone who is thinking of adding a snake to their family to step up and adopt one. 
"We want to make sure these animals, who have already endured so much in their short lives, are matched with the right person so they need never end up back in a rescue environment again," White said.