Man Sees Something Strange On Way To Work — And Realizes It's Alive
"This little guy is a fighter."
Just before 7 a.m. on Monday, a passerby caught of glimpse of something odd on the snow-dusted ground in Seabrook, New Hampshire.
The gray object could've been mistaken for debris left by the storm that tore up the New England coast over the weekend, or one of the rocks that lined the busy highway. But upon closer inspection, the passerby realized that the object was a storm-battered young seal — very much alive and in need of help.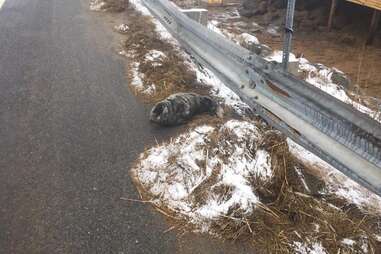 "The seal more than likely came up with the extremely high flood tide around 2 a.m., as a result of the storm," Ashley Stokes, rescue manager at Seacoast Science Center (SSC), told The Dodo. "Once he was up there, he likely realized pretty quickly that it was a more desirable spot than being battered by the high surf, and stayed put. Unfortunately, he didn't realize that it was not a good spot for him to be in!"
Had the person not spotted the lethargic 2-month-old seal pup early that morning, Stokes noted, he could have easily been hit by a speeding car. A police officer arrived at the scene to protect the seal until members of the rescue team from SSC were able to herd the animal off the road and into a nearby parking lot.
The little seal weanling's behavior quickly revealed to rescuers that he would not survive if left on his own.
"We were able to immediately determine that he was not 'himself' when we first arrived on scene. Gray seal weanlings should be very aggressive when approached," Stokes explained. "But this little one allowed us to get right beside him and move him into the kennel, with no fight at all."
His rescuers also noticed that the seal was sneezing and coughing a lot, and was quite thin for his age. After likely getting tossed around in the high seas, the exhausted seal was grateful to finally be safe.
Soon after arriving at the National Marine Life Center rehabilitation facility, he was given the name Saco, after the scenic river that runs from New Hampshire to Maine. And then the hard work of trying to save the little rescue started.
"We quickly realized that his blood sugar was extremely low and he was critically dehydrated," Stokes said. "Luckily, X-rays did not reveal any serious injuries, so the big priorities now are to get his blood sugar and hydration level back to normal, and then get him to start eating fish on his own again."
In just a few days, Saco has started acting like himself again; a very good sign, Stokes noted. The once-passive seal is now vocalizing and showing a little bit more attitude when handled by his rehab caretakers. "This little guy is a fighter, but he still has a long way to go," the National Marine Life Center wrote on Facebook.
In Maine and Massachusetts, seals are typically born between December and February, and only have about 16 days with their mother until they go off on their own. Large surf and high winds can take a toll on newly independent seal babies, and cases like Saco's are not unusual, according to Stokes.
Lucky for Saco, everyone at the rescue center is ready and willing to help get him back in the water where he belongs.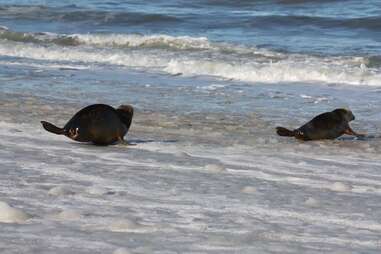 With an optimistic prognosis, it's only a matter of time before Saco can be released back in the wild, but for now, he's enjoying his vacation.
If you find an injured or stranded marine mammal, call your local marine mammal rescue agency before approaching the animal. For New Hampshire and northern Massachusetts, the 24-hour hotline is 603-997-9448. You can donate to the Seacoast Science Center Marine Mammal Rescue program
here
.