Rescued Baby Pigeon Was Feeling Lonely, So Rescuers Got Him An Unusual Friend
He loves snuggling up to it ❤️
Solo was found by someone who noticed he was on the ground all alone, nowhere near his family or his nest. The person contacted the Scottish SPCA, which immediately came out to rescue the little 4-week-old pigeon. The little guy was clearly too young to be on his own, and so the rescue took him back to its National Wildlife Rescue Center in Fishcross.
After being examined, it was determined that little Solo was too young and weak to take food on his own, so staff at the rescue center began tube-feeding him instead. It seemed the baby bird would probably have to be at their center for a while, and staff were afraid that he might get lonely — and so they decided to give him a very unusual friend.
"As pigeons are flock birds they do better with company so, due to his weak state, we decided to give him a companion in the form of a toy elephant," Colin Seddon, manager of the National Wildlife Rescue Center, said in a press release. "He enjoys snuggling up to it but also uses it as a perch."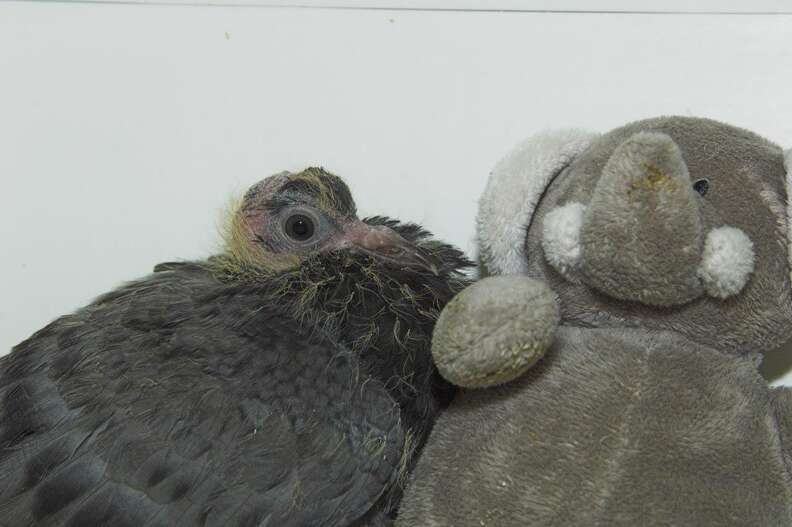 Since Solo is naturally a little scared and nervous about his new temporary surroundings, he seems to absolutely love having something to cuddle up to for comfort, until he can rejoin his family in the wild again.
It's pretty entertaining to see how much Solo loves his stuffed elephant, since the two animals are about as different as two things can be, but Solo hasn't seemed to notice that he and his new pal are any different.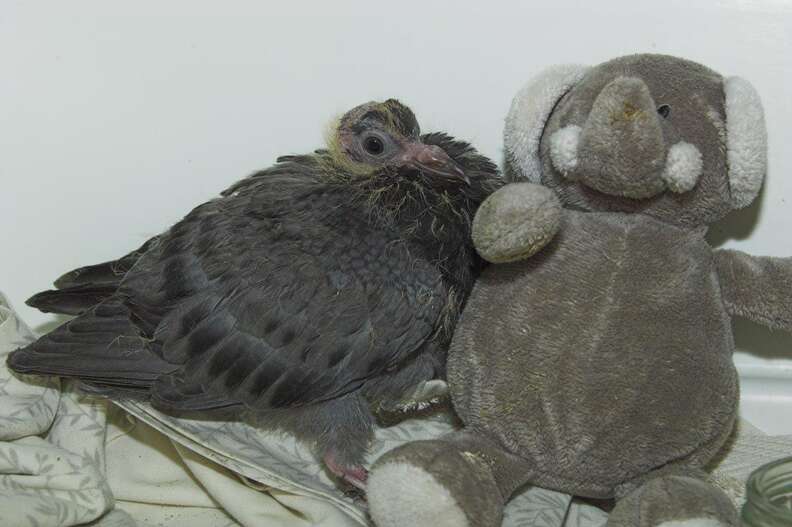 "Solo will be released back into the wild once he has fully matured," Seddon said.