Man Finds Something Strange Tangled Up In His Fence
He arrived just in time to help ❤️️
A farmer was going out to tend to his crops in Thailand when he noticed something strange hanging on his fence.
WFFT
The intention of the wire fence was to keep wild birds from ruining the farmer's harvest — that is exactly what it did, but it also could have killed two wild baby owls who ended up entangled in the wires.
Fortunately, the farmer took pity on the owlets.
WFFT
The farmer took them inside and tried nursing them back to strength on his own.
But when the owlets stopped eating for three days, the farmer realized he needed to get the baby birds expert help.
WFFT
"He tried taking care of them but ended up bringing them to Wildlife Friends Foundation Thailand (WFFT) after they didn't eat for three days," WFFT wrote on Facebook.
Veterinarians at the rescue center, trying to figure out what was wrong with the little owls, took radiographs so they could detect whether there were any internal injuries.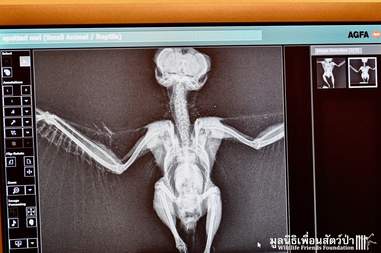 WFFT
"Radiographs didn't reveal any internal issues but they did have some superficial wounds," WFFT wrote.
But the wild birds were clearly weak and in shock from all the tumult of the last several days.
WFFT
WFFT
Luckily, the winged duo had a fighting spirit in them. After being fed with tweezers by their rescuers, the owlets quickly gained strength.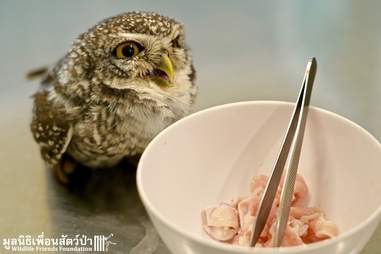 WFFT
After a week at the rescue center (and many long stares at the odd-looking primates taking care of them), the owlets seemed ready to head back into the forest.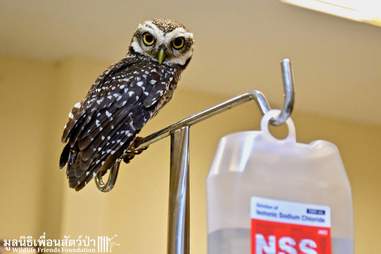 WFFT
Rescuers brought them to a safe space in the woods that was far from predators and even set up nesting box for them to keep the birds safe.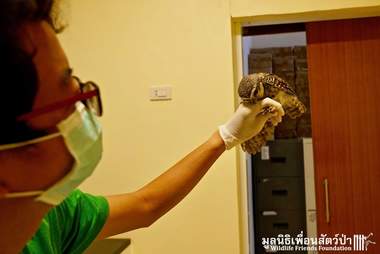 WFFT
"We released two very photogenic spotted owlets!" WFFT announced earlier this week, making sure to capture on camera a few last snapshots of the beautiful owls.
WFFT
Realizing the encroachments on their natural habitat from human developments, rescuers can only hope that getting tangled in a fence will be the last interaction the birds have with people.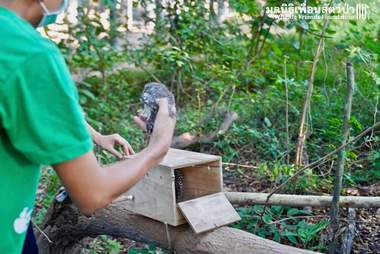 WFFT
"Be free and stay away from the humans!" WFFT wrote, wishing the birds the best of luck.
WFFT