Baby Otters Are Being Stolen From Their Families And Sold Online
The online pet trade is now "the most pressing threat to the survival of otters."
Wild river otters are facing a new kind of threat, one of the biggest threats to their survival — all because of a fad.
Sadly, the danger is in plain sight — but at first glance it can just seem cute: A simple hashtag search for "pet otter" yields hundreds of results on any given social media platform.
The investigation, which combed Facebook and other online platforms for ads selling otters, found that 70 percent of the otters being sold were just babies — they were under a year old. Baby otters typically stay attached to their moms for their first year of life, so the baby otters being sold as pets had presumably been torn away from their mothers.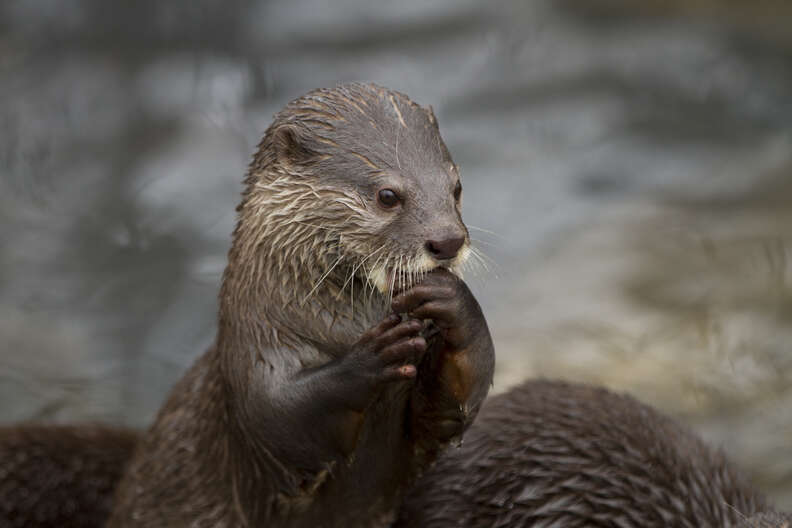 In a period of just four months — from January to April 2017 — investigators found hundreds of ads offering up to 1,189 otters for sale in Indonesia, Malaysia and Thailand. Several dozen live otters were confiscated as they were being trafficked from Thailand to be sold in Japan.
"The fact that so many otters can be so easily acquired and offered for sale to thousands at the click of a button and subjected to little or no regulation is a serious problem," Kanitha Krishnasamy, acting regional director for TRAFFIC in Southeast Asia, said. The report recommends several tactics to protect otters, including stronger laws and regulations.
And one of the main ways experts hope to fight this trend is to stop the public's perception of otters as pets where it starts: online.
"We would like our followers to know the gravity of the situation, especially when on social media. Please be aware of what posts and photos of otters you like, comment and share and please avoid positive feedback when the photos are potentially of baby otters being raised to be sold as pets," the IUCN-OSG wrote in an Instagram post in 2016, as the trend was beginning to spiral out of control, and as the research into the growing trade was getting underway. "We do not and will never condone keeping an otter as a pet."