Baby Orangutan Chained Up At Zoo Is So Desperate For Help
A new video shows him reaching out to zoo visitors — but his chain is too short to reach them 💔
Bolted to the ground with a thick chain around his waist, a baby orangutan at Samutprakarn Crocodile Farm and Zoo in Thailand has no choice but to pose for tourists' photos all day.
Instead of being in the wild with his mother, scaling trees for miles, he is barely able to walk 3 feet without getting snagged by the chain.
In a recent video posted by a tourist, the young ape is shown in a pair of gym shorts crawling around in circles and continuously throwing himself onto the ground stomach-first. Crowds of people watch and call him over, causing him to rush to them — only to be pulled back again by the chain.
After the orangutan picks up a piece of litter and puts it in his mouth, a caretaker comes into the frame to forcefully hit the animal's face and drag him away. The baby orangutan is also shown in other videos on the same concrete floor, climbing on a plastic chair, or sitting alongside a baby chimpanzee in front of small cages.
For Prashant Khetan, chief executive officer for Born Free USA, a major concern is where the young orangutan will end up once he becomes stronger and less tolerant of human interaction.
"Orangutans are typically solitary, so getting one to interact with humans will take some 'training' — which is why this orangutan is chained and at one point abused by his handler," Khetan told The Dodo. "They can live to 40-50 years. There will come a time when the orangutan will need to be disposed of because this 'act' is no longer profitable for the owner."

When primates are used for entertainment by zoos, particularly in Asia, it's very likely that they were sourced from the illegal wildlife trade, Khetan added. This often involves stealing babies from their mothers in the wild to be sold after killing the mothers — eliminating the babies' chances of learning important survival and socialization skills that their mothers would have taught them in their first years of life.
In Thailand, orangutan attractions are not uncommon. Another nearby zoo, Bangkok Safari World, forces groups of orangutans to "play" a concert for the crowd after ziplining down to the stage from the rafters.
While much about the baby orangutan at Samutprakarn Zoo is unknown, including his name or exact age, the video has sparked an outpouring of online protests from animal advocates and viewers hoping to bring the cruel conditions to the attention of Thailand's Ministry of Natural Resources and Environment.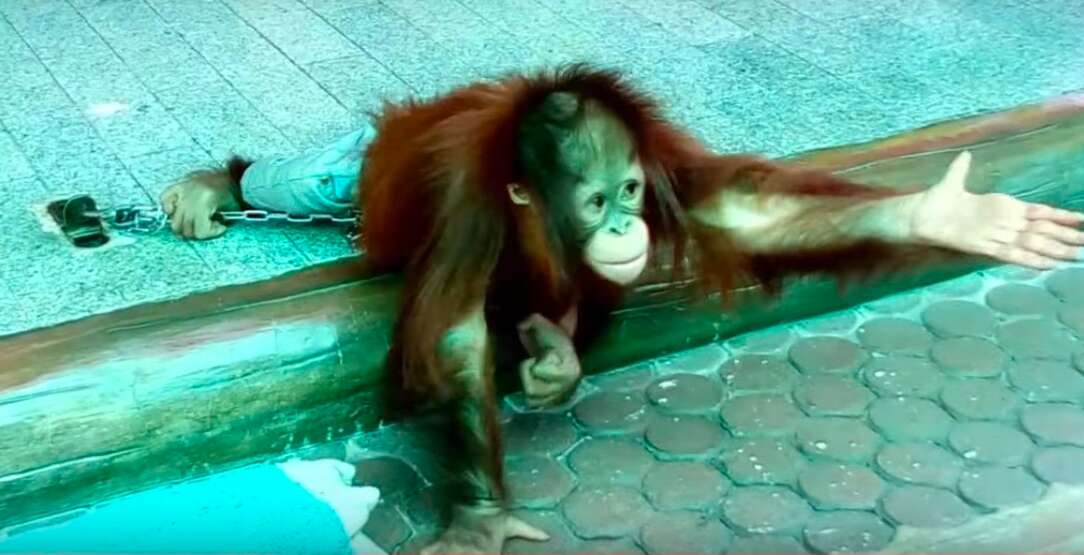 Longtime primate advocate Greer Bullock, of Sheffield, England, started an online petition after seeing the video for the first time last month. It's gained over 60,000 signatures so far.
"My heart instantly broke," Bullock told The Dodo. "I did some research into the zoo and was horrified at the extent of the terrible conditions the animals are kept in. I knew I had to do something to try to help."
At the same zoo, crocodiles are regularly used in shows where trainers wrestle them and force the animals' mouths open to place their own heads inside. Elephants are also used in shows and made to give people rides as their trainers jab them with spears.
Much like the young orangutan, adult tigers, big cat cubs and exotic birds are also kept in collars and chains so tourists can take photos with them.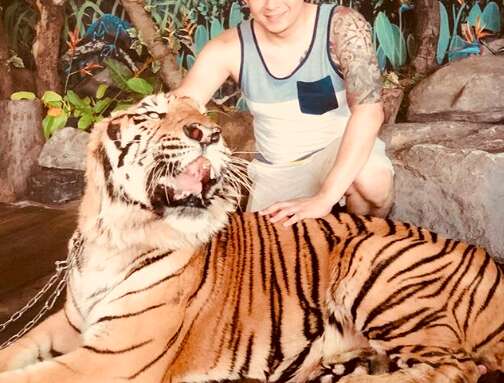 For Bullock, the main goal is to have the animals transferred to sanctuaries where they can live a more natural life, free of flashing cameras and chains.
"This poor baby should be with its mother in a forest," Bullock said. "I really hope that we are able to get the zoo shut down and the animals relocated to sanctuaries, where they can get the love and care they need."