Baby Orangutans Were About To Be Shipped In Crates When People Found Them
They were taken from their families in the wild and sold online for $200.
The rescue team found the baby orangutans just in time.
Yesterday, police stormed into a house in Pontianak, Indonesia in West Borneo, and found two baby orangutans — a 1-year-old male and an 8-month-old female — locked up in tiny cages that had been packed into shipping crates.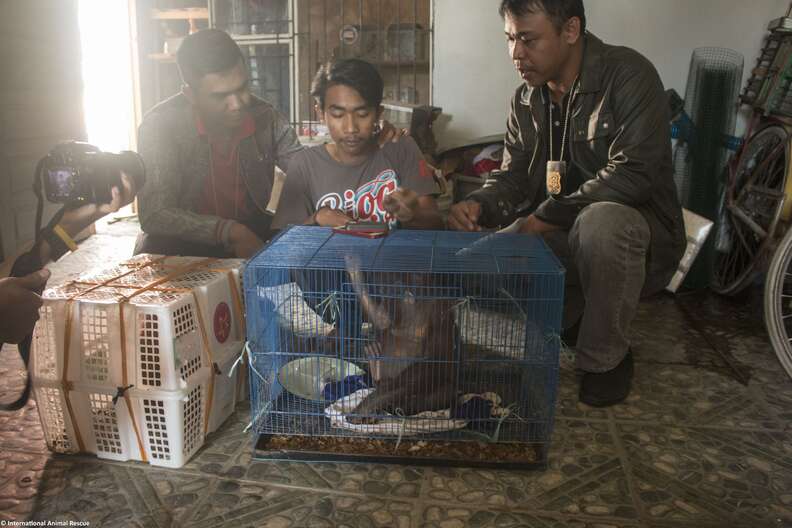 The man who put them in there had sold the babies on a social media site for 3 million Indonesian rupiahs (about $224 USD). While the police aren't sure where they were going to be sent, the seller was definitely getting ready to transport them somewhere.
The baby orangutans were absolutely terrified — besides being locked up in cages without food, water or comfort, they'd probably had to watch people kill their moms right in front of them.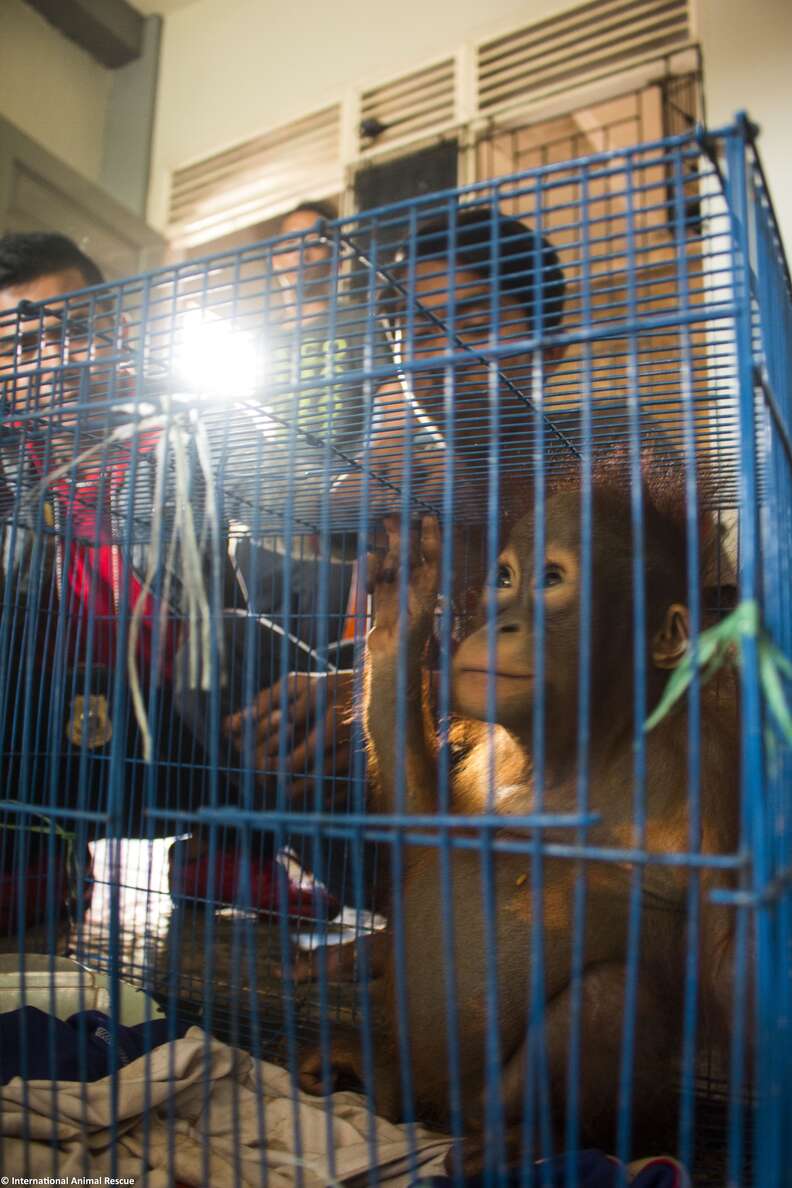 "These baby orangutans were traumatized after being torn from their mothers and being deprived of the food and protection their mothers provided for them," Lis Key, PR and communications manager for International Animal Rescue (IAR), the organization that worked with the police to save the orangutans, told The Dodo. "They were dehydrated and severely distressed. So they were suffering both physically and psychologically."
One of the baby orangutans was rocking back and forth, which was a sign of extreme stress, Key explained.
Thankfully, the IAR team knew exactly how to help the babies. Back at IAR's rescue and rehabilitation center in Ketapang, West Kalimantan, the medical staff gave them rehydration fluids and put them in quarantine, where they're still being monitored to make sure they're not sick.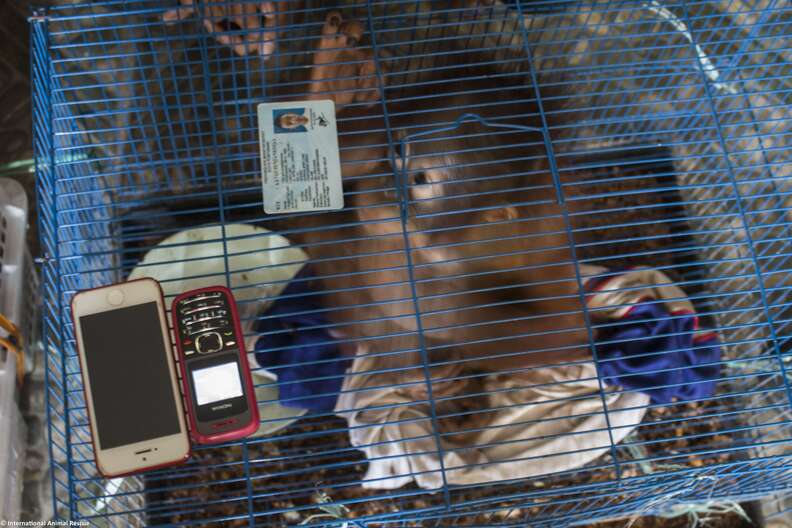 But it's not just their physical health that needs looking after — the baby orangutans also have to deal with the trauma they've undoubtedly gone through.
"One can only imagine the horror these poor orangutans have suffered," Key said. "They have been torn from their mothers in the forest and hidden away in small, airless boxes. These two babies should have been clinging to their mothers for comfort and protection; instead they were being kept alone in the dark, frightened and far from home."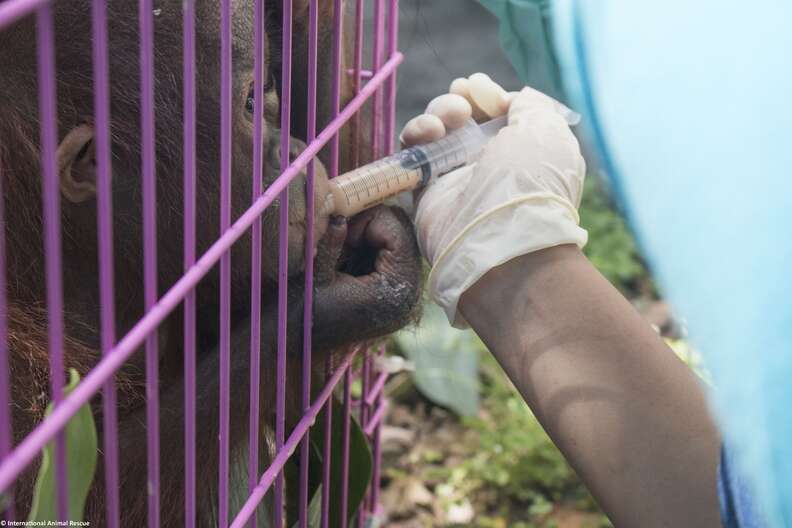 To help the babies cope, the IAR staff will make sure they're never alone.
"Initially they will be given large, soft teddy bears to cling to for comfort and warmth," Key said. "They will be cared for by babysitters who, when they are out of quarantine, will introduce them to other rescued infants and take them to preschool and baby school."
Unfortunately, these two baby orangutans aren't the only ones who have been through this kind of ordeal. The IAR team has rescued countless orangutans who were illegally sold or kept as pets. In fact, IAR is currently caring for 111 orangutans at its rehabilitation center.
"Having such a large number of orangutans undergoing rehabilitation, with more having to be rescued, makes it harder and harder to find safe places where we can release them," Karmele Llano Sanchez, IAR program director, said in a statement. "If we do not address the root cause of the problem, we will never halt the decline of orangutans in the wild."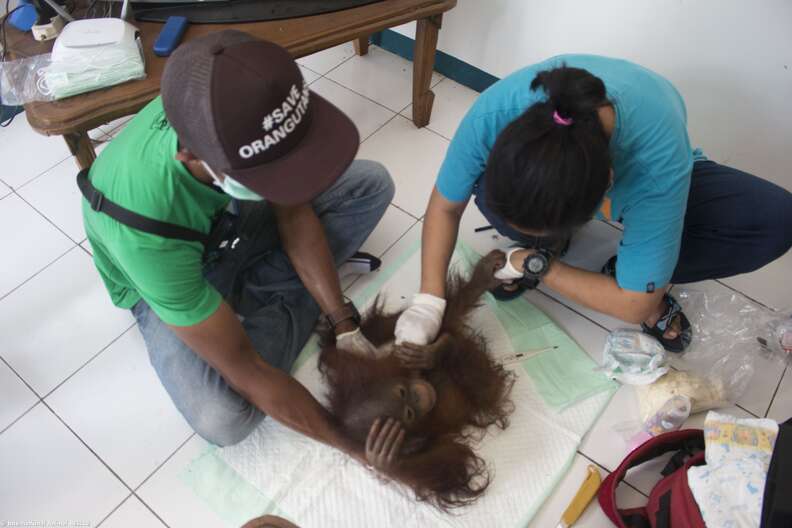 In the last 50 years, the Bornean orangutan population has declined over 60 percent, which prompted the International Union for the Conservation of Nature (IUCN) to classify the species as "critically endangered."
Fortunately, IAR has the help and support of the local police and officials from the Ministry of Environment and Forestry, and by working together, they hope to put a stop to the illegal trade of orangutans. Not only did the police arrest the man responsible for capturing and selling the two baby orangutans, but they are also currently investigating a larger wildlife trafficking syndicate.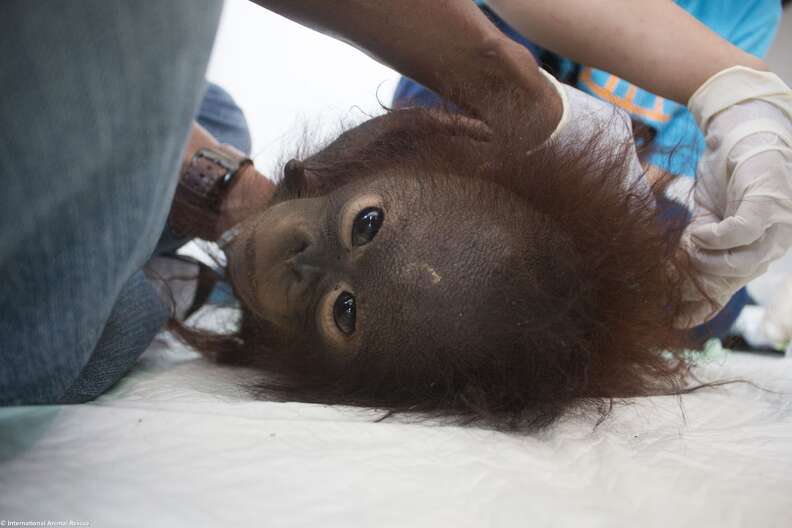 The two babies will need to go through several years of rehabilitation before they're eligible to be released back into the wild — they'll need to learn to forage, climb, build nests and socialize with others. But the IAR team will do everything it can to help them get there.
To help these baby orangutans make a full recovery and get back to the forest, you can
make a donation
.