The baby gorilla was trapped. Her foot had gotten caught in a rope snare, and it had wrapped so tightly around it that she couldn't get away.
In early June, rangers found the baby gorilla, whom they named Yalala, in Virunga National Park in the Republic of Congo. They immediately called for help, and while they waited for help to come, they tried to give Yalala some forest greens and banana. But Yalala was too weak to eat, let alone sit up.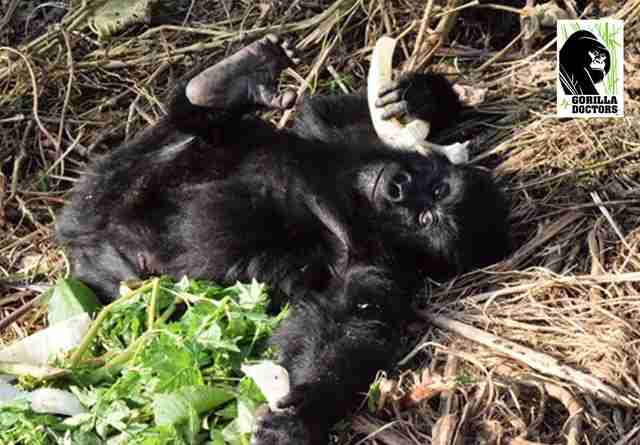 When the rescue team arrived, Yalala screamed and hid her face, so a vet gave her a low dose of an anesthetic to keep her calm. Then they freed her from the snare — but they could see she was in horrible shape.
Yalala was weak, hungry and dehydrated, and dry skin was crusted on her left thigh. But most concerning of all was Yalala's foot — the snare had cut off its blood supply, and it was infested with maggots.
"Her foot had to be amputated on-site in order to prevent infection from spreading to the rest of the body," a Gorilla Doctors spokesperson told The Dodo. "Basically, the foot was dead after having all blood supply cut off by the tightness of the snare."
The rescue team suspected that the gorilla's family members had tried to free Yalala from the snare, especially based on the tightness of the rope.
"This has happened in the past when babies get caught in snares," the Gorilla Doctors spokesperson said. "But evidence on the terrain surrounding the snare site and the tightness of the snare itself is a good indicator that it had been pulled on by stronger gorillas than baby Yalala herself."
But no matter how hard they tried, Yalala's family couldn't help her.
"Yalala was probably abandoned when the family realized they would not be able to free her themselves," the Gorilla Doctors spokesperson said. "Human-made snares are designed to prevent animals from escaping, and since gorillas do not stay in one location for very long, it was in the interest of the whole group to move on, even if it meant leaving Yalala behind."
It's estimated Yalala was caught in the snare, alone and hungry, for six days.
During their examination of the baby gorilla, the rescue team recognized that she belonged to a 19-member gorilla group led by an old silverback named Kabirizi.
Getting Yalala back to her family would be of the utmost importance. But first, Yalala needed veterinary attention, so the rescue team transported her to the Senkwekwe Center, a facility for orphaned and injured gorillas.
Several weeks later, Yalala is still recovering at the Senkwekwe Center, although she's making steady progress, according to Gorilla Doctors.
"It seems she is finally more at ease with her surroundings and her caregivers," the Gorilla Doctors spokesperson said. "Her personality is described as feisty as she slowly starts to regain her strength."
To help Yalala feel more comfortable and calm, the vet team gave her a stuffed animal to keep her company.
"Gorillas are social and find a great deal of comfort in the company of others, of their own kind — but when that's not possible, our team and the park staff do their best to try and simulate that kind of companionship," Gorilla Doctors said. "That is why she was given the toy, and that is also why her caregivers make sure to give Yalala plenty of hugs and companionship while she is in their care."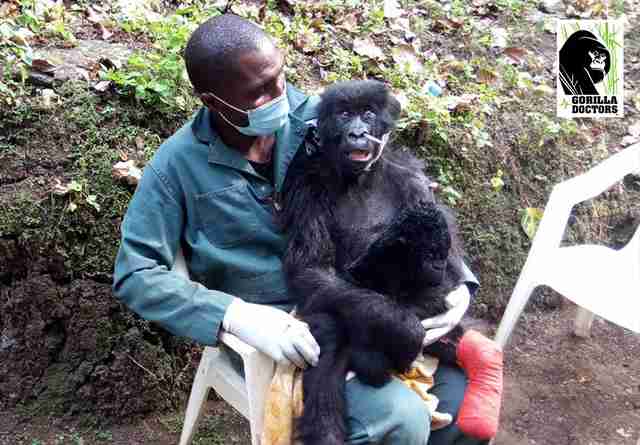 And when Yalala started tugging at her nasogastric tube (which was initially used to feed her) and bit her caregivers, everyone celebrated — this was a sign that Yalala was regaining her strength and wildness.
"Only time will tell how much longer she'll need veterinary care," Gorilla Doctors explained. "Park authorities will be determining her eligibility for reintroduction to her family Kabirizi group."