Baby Elephant Destined For Circus Won't Stop Crying For Her Mom
All she wants is to be with her family again 💔
Chained up inside a dark concrete building in Jaipur, India, Suman the elephant calf can't do anything but cry out for her mom.
She's only 6 years old — but her torturous and lonely role as a show elephant has already begun.
In the wild, she would be surrounded by her loving family and roaming miles together each day, but instead she is on her own and being brutally trained to prepare her to perform at circuses.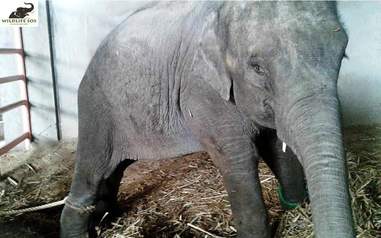 Suman in her small concrete pen

| Wildlife SOS
Recent video taken by undercover agents with Wildlife SOS shows the young elephant writhing in her pen while continuously bobbing her head in distress. A thick rope is attached to one of her ankles to keep her from moving around too much.
Suman's owner, a notorious wildlife trafficker known to attack his elephants with axes, also owns her mother and father — but the family is forced to live apart from one another.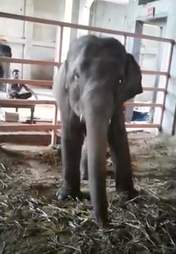 Wildlife SOS
Suman's mother, Chanda, has been constantly bred only to see her children be taken away to be sold into the entertainment industry. She and Suman's father, Bijli, are forced daily to give tourists rides in the scorching streets of Jaipur.
"Keeping 6-year-old Suman locked up and not allowing her to be in bodily contact with her mother and family members is a crime," BK Singh, a retired Forest Department official, said in a statement. "The owner does not have proper documents for these elephants. It is high time the Forest Department takes action and seizes Suman who can be shifted to the [Wildlife SOS] elephant rescue center in Mathura."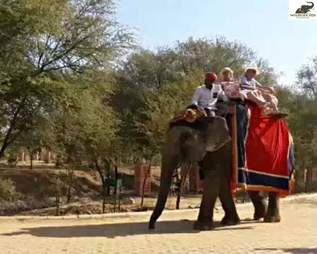 Suman's mother, Chanda, being forced to carry tourists on her back down the street

| Wildlife SOS
Since witnessing the heartbreaking scene, Wildlife SOS has launched a campaign to save Suman before she is sold off to another owner out of state. They're also pushing wildlife officials to allow them to seize her mother and father, since they are being kept illegally as well.
"Once Suman is moved out of the state she will be lost and can never be traced again," the rescue said in a press release. "He [the owner] will then be free to use the same money to purchase more baby elephants."
Suman inside her small concrete enclosure

| Wildlife SOS
This wouldn't be the first time Wildlife SOS rescued someone from this family.
In 2015, Wildlife SOS rescued Suman's older sister, Peanut, who was also separated from her family and forced to perform in circuses. Rescuers remember seeing her spend days on end in her enclosure just bobbing her head, a common sign of distress in captive elephants.
Peanut, the smaller elephant, feeding some grass to her blind friend at the Wildlife SOS sanctuary

| Wildlife SOS
Peanut is now 9 years old and lives happily among other former show elephants — and rescuers are hopeful they will be able to reunite the two sisters so they can spend the rest of their lives together after everything they've been through.
"As a baby elephant, Suman is faced with an uncertain future," rescuers said. "Either 50 years of abuse, beatings, neglect and fear — or 50 years of safety, kindness, veterinary care and love from people and other elephants at the Wildlife SOS Elephant Rescue Center. Her fate lies in our hands."