Chill Armadillo Decides To Use Family's Pool While They're Out Of Town
"I was shocked" 😎
Living the wild life can sure be exhausting at times — there's so much scurrying around. Fortunately for one leisure-loving armadillo, he found just the place to take a load off for a while.
That place was Kristy West's swimming pool.
West and her family live in East Texas, but last weekend they were away from home on a vacation. That apparently came as welcome news to this little armored local.
It had been pretty hot out, and West's pool is a perfect spot to stay cool. So, seeing as no one was around to be bothered, the armadillo evidently decided to make use of it himself.
The little guy was probably hoping his unsanctioned pool day plan would go unnoticed — but there was one thing he failed to account for. Turns out, West had asked her sister-in-law to drop by to check on things.
That's when the armadillo was discovered, lazily lounging on a cozy blue floaty.
Word soon got to West about what was going on back at her place. Interestingly, she, too, was cooling off at the beach the very moment the text from her sister-in-law buzzed through.
"My daughter came running out in the water with the phone, so I thought something was wrong," West told The Dodo. "Then she showed me the pictures. I was shocked, but thought it was amazing and hilarious. We had a very good laugh about it."
In the end, West really didn't mind the visitor being in her pool. But while armadillos are excellent swimmers, she had her sister-in-law help the armadillo get out just in case he couldn't do it on his own.
Well, it was fun while it lasted.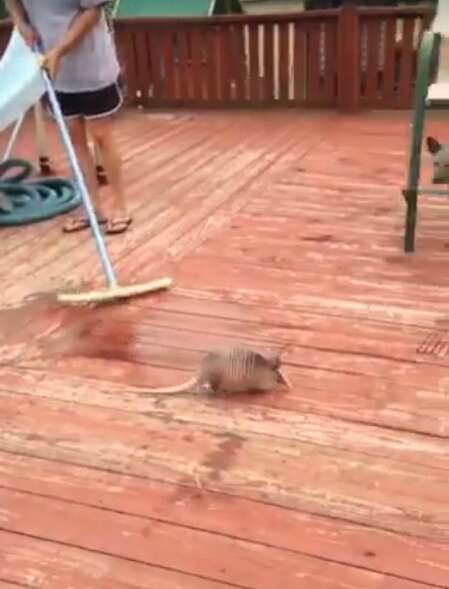 After being escorted out, the armadillo trotted off and disappeared under the deck — a nice shady place for a post-pool nap.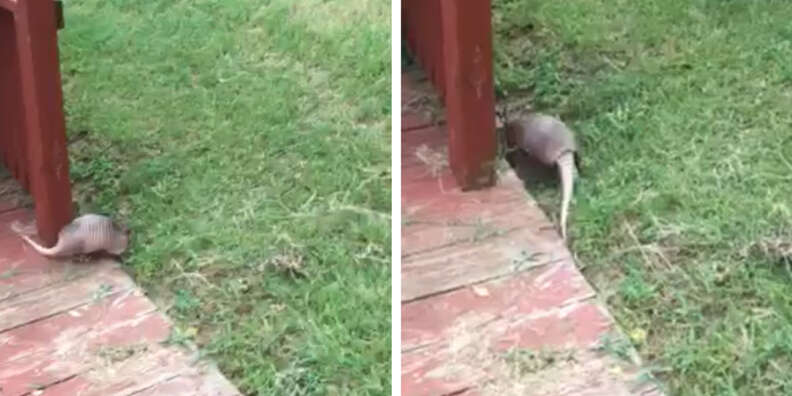 Summer is still in full swing and relief from the heat can be hard to come by. So, if he decides to cool off in the pool again, West says, he'll have her blessing.
"I would probably just let him chill and see if he could manage to get out on his own," she said. "[But] we are still wondering how he managed to get on the float like that."