Wild Bird Flies Right Up To Hiker In Disney-Like Moment
"Maybe if I don't look, it'll land on my hand."
A hiker on the Appalachian Trail, making her way along the 2,190-mile trek from Maine to Georgia, is quickly becoming known as a bird whisperer. 
Recently, in Pennsylvania, she came across a random Polish-crested rooster in the middle of the woods. She scooped him up, and hiked 46 miles through a rainstorm with him in her arms. He even shared her tent one night.
Heather Bolint
Heather Bolint
But this wasn't the first time Heather Bolint hobnobbed with feathered friends. Earlier this year, along a stretch of the trail in New Hampshire, Bolint came across a gray jay, a kind of bird also known as a "camp robber" bird, ostensibly because of their willingness to get close to campgrounds to swipe food. They're even known to hoard stashes of food in trees during the summers to help sustain them during the winter.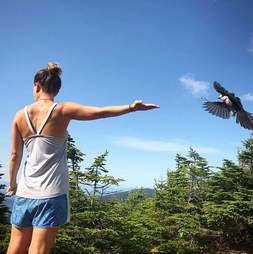 Alex Livingston
"They're a gregarious little bird that I first discovered in the mountains of the Pacific Northwest," Bolint told The Dodo. "If I notice them hanging out nearby, then I usually try [to offer them something] ... in general, it's usually not advised to feed wild birds. But whenever I do, I make sure I'm feeding them nuts or seeds, instead of something unhealthy."
In this particular instance, the gray jay seemed uncertain but interested, so Bolint put a little seed in her hand, stood very still and looked the other way. "Maybe if I don't look, it'll land on my hand," she said.
And it seemed to do the trick; bird whispering, achieved!
Alex Livingston
Alex Livingston