Sick Lion Spent Years Trapped In Tiny Cage At 'Worst' Zoo
"It was like a concrete prison" 💔
Martin Bauer will never forget the smell when he and a team of rescuers entered Safari Park Zoo, a run-down facility in Fier, Albania, that has been called "Europe's worst zoo."
"There were feces and trash everywhere, and it was super smelly," Bauer, head of PR at Four Paws International, told The Dodo. "I didn't expect that. It smelled like feces and rotten things."
The bear at Safari Park Zoo in Albania

| Four Paws International
The stench was only the start of it. When Bauer and the team ventured further into the zoo, they found dozens of frightened animals living in derelict enclosures.
Four Paws International
"It was like a concrete prison," Bauer said. "I've never seen something like this before. Every animal has the littlest space possible. They can move around a little bit, but not well. Everything was dirty as well."
One of the most upsetting things for Bauer was coming across a lion with a bad eye infection.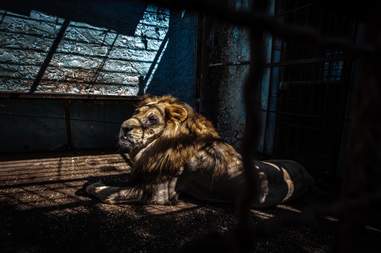 Four Paws International
"He was just in this really tiny, dark room," Bauer said. "It wasn't even an open air kind of thing. It was literally a dark room with a heavy metal door, and he was just lying there on concrete. He looked like he gave up. He was like breathing and everything, but … he was just numb. Lions are beautiful creatures and I've seen them in the wild … so it's really disgusting to see them in these tiny enclosures."
Four Paws International
But last week, life changed for the better for the animals stuck at Safari Park Zoo.
The zoo had run on a valid license for many years, Bauer explained. But this year, the zoo's license expired, and the Albanian government refused to renew it, citing the small, inadequate enclosures as the reason for this refusal.
Four Paws International
Working closely with the Albanian government, Four Paws gained the authority to rescue 12 of the resident animals at the zoo, including a bear, fox, turtle, zebra, waterbuck and red deer, as well as three fallow deer and three lions.
Four Paws International
"We arrived at the scene, and it was agreed that the police would go first," Bauer said. "The police broke through the gate forcefully and let us in, which was really nice of them."
One of the dogs displayed at Safari Park Zoo

| Four Paws International
Unfortunately, the rescue team wasn't able to locate the turtle, who wasn't in his enclosure as expected. The team also didn't have the authority to rescue several domestic animals, including dogs, chickens, goats and sheep, although Bauer said that Four Paws is still hoping to rescue them in the near future.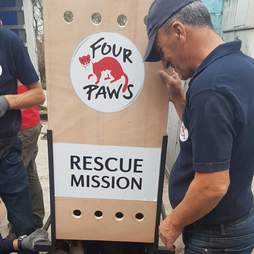 Four Paws International
The rescue team, which included several veterinarians, worked diligently to get the 11 animals safely out of the zoo and move them to a temporary holding facility at Tirana Zoo in Tirana, Albania. The zebra tragically didn't make it, but the other animals are doing really well, Bauer said.
One of the rescued lions recovering at Tirana Zoo

| Four Paws International
"It's very rewarding when you see them go into enclosures, and you know this horror is finally over for them, and now the new journey begins for them," Bauer said.
One of the rescued lions recovering at Tirana Zoo

| Four Paws International
"Obviously, Tirana Zoo is not the ideal place for these rescued animals, but it was the safest option," Bauer added. "We're all very grateful to Tirana Zoo, because without their help, we wouldn't be able to rescue them. As soon as they're fit enough and healthy enough, we will bring them to better and more suitable locations."