People Find 105 Unwanted 'Pets' Stuffed In Filthy Cages
Now they're getting their first baths and soft beds in years ❤️
In a cage full of garbage, a monkey clutched the wire fence.
Bottles and papers littered the entire floor, and there was no food or water in sight.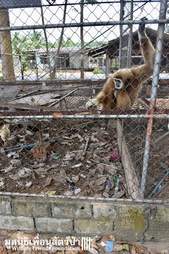 WFFT
In another filthy enclosure, geese sat huddled on a concrete slab next to a green, sludge-filled pool. Just a few feet away, a lone boar paced around a barren concrete enclosure, with no view of the outside world. His skin was bright pink and completely bald.
The animals were unwanted and discarded — but help was on the way.
The wild boar in his barren concrete enclosure

| WFFT
Last week, rescuers with Wildlife Friends Foundation Thailand (WFFT) discovered over 100 wild and domestic animals living in squalor at a temple in Rayong Province, Thailand. Over the years, residents had dumped their unwanted pets and farm animals there, and the monks couldn't keep up with caring for all of them.
Some animals had already died from the horrible conditions. But there were still so many left to save.
WFFT
Every corner of the property brought a new and heartbreaking sight for the rescuers. Feces-filled cages lined the property, and none of the animals had access to clean water. It would turn out to be the team's largest rescue mission yet.
"The rescue team is well experienced in handling all the various species, but have never done them all together on such a scale," WFFT said. "It took around two hours to pack and load the animals."
Two porcupines in a concrete enclosure

| WFFT
In addition to wild animals like gibbons, civets and porcupines, there were also many goats, rabbits and ducks withering away inside the enclosures. Aside from littered paper or bottles to stand on, the animals in cages were forced to live on uncomfortable wire floors. Many were so malnourished that they barely moved when rescuers reached into their cages.
One by one, the team rounded up the animals into transport cages to make the trek to the WFFT rescue center. They had plenty of soft straw to snuggle into — likely for the first time in years.
Two brahminy kites settled into their transport cages

| WFFT
The animals would no longer need to worry about where their next meal would come from, or whether they'd have to hide from passersby who harassed them.
"The area the animals were being kept was easily accessed by members of the public as it was close to a public road," WFFT said. "People would throw trash into the enclosures, often killing the animals when they ate it, and we heard reports that some of the animals had been poisoned."
A goose running to freedom at the sanctuary

| WFFT
While the team hopes to rehabilitate many of the wild animals for release, the domestic animals such as goats and rabbits will have a permanent home at the rescue's sanctuary. All of the animals are being quarantined and checked out by a veterinarian, and then they'll start their own unique treatment plans for any health ailments.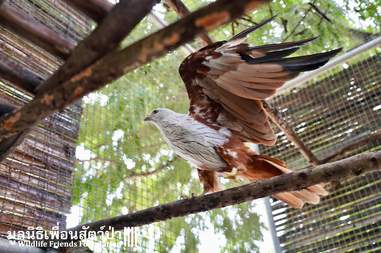 A rescued brahminy kite stretching his wings at the sanctuary

| WFFT
The best medicine for them so far has been a clean home and a good meal. They're getting stronger each day — and are starting to show just how pleased they are with their new lives.
The wild boar snacking on fruit at the sanctuary

| WFFT
"[It was] a very long and exhausting day for the team," the WFFT team said. "But to end the day watching the wild boar take his first mud bath in many years made it all worthwhile."