Rarest Ape Gets Her Own Island To Keep Her Safe
She's so beautiful — but that's why she's in danger.
With snow-white hair and piercing blue eyes, Alba the Bornean orangutan is one of the most unique apes in the world.
As she climbs around and plays with her copper-haired friends at Borneo Orangutan Survival Foundation (BOS), it seems she has no idea at all that she's any different. But in the wild, her rare look is the very reason poachers would want to harm her.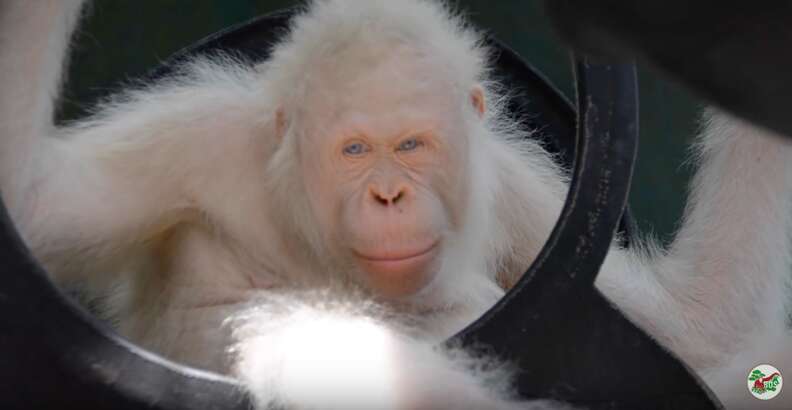 As the world's only known albino orangutan, Alba is a clear target for wildlife traffickers due to her striking appearance. Last year, she was stolen from the wild by Indonesian villagers who locked her in a cage to keep her as a pet.
Luckily, BOS was tipped off about Alba's plight and the organization was able to rescue her. While most orangutans can be released back to the wild, they knew this wasn't a safe possibility for Alba.
Due to her bright white fur, rescuers were worried she'd attract other poachers. And since she's albino, Alba is more susceptible to skin disease, vision loss and poor hearing compared to her redheaded counterparts, which would further leave her at a disadvantage to other wild orangutans.
So BOS set out on a valiant effort to keep her safe forever: They would raise $80,000 to buy the ape her own island, since she can't be safely released back to her old home.
After the story of her rescue went viral, and after months of fundraising, the foundation announced news in January that 6-year-old Alba's special refuge would soon become a reality. BOS purchased a plot on a remote island which will soon be a sanctuary for Alba and three friends whom she has bonded with while under the BOS's care.
The area Alba and her friends will be released in is actually an island within an island — there's a dense canal system that cuts the 25-acre jungle where they'll live off from the rest of the land. BOS will also provide extra security to protect the apes despite the natural barriers.
"The new forest-island for Alba will be secured 24/7 by security staff patrolling the island regularly," Nico Hermanu, communications officer for BOS, told The Dodo. "The sanctuary initiative also involves cooperation from the local government and communities. This way, we can safely say that Alba should be well-protected in her new forest-island."
Additionally, staff will be providing supplementary foods twice each day on a feeding platform to ensure the apes are getting enough nourishment while adjusting to their new environment.
When young wild orangutans are stolen from the wild, they often need to go through forest training and socialization sessions to learn the instinctual skills they should have learned from their mothers. Poachers will often kill mother orangutans in order to take their children — which likely happened in Alba's case, though no one knows for certain.
Orangutans have also been found shot by villagers to keep them away from palm oil plantations.
Luckily, Alba and her three friends already have the skills needed to lead a comfortable life in the wild. Since Alba was poached at around 5 years old, she had already started learning how to climb and forage in her forest home by the time of her rescue.
"Looking at her, she is just as wild as other semi-wild orangutans we put her with," Hermanu said.
While the apes are still waiting for their new home to be finished, BOS expects to move them sometime this June.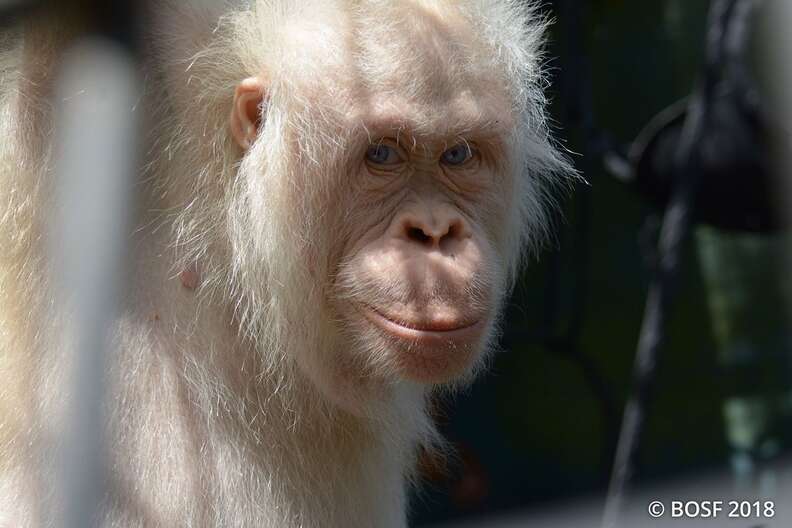 Then, the rarest ape in the world will be able to glide through the trees without a worry — with some trusted companions at her side.
To help Borneo Orangutan Survival Foundation provide sanctuary for more at-risk apes, you can
make a donation
.