Guy Passes Bucket Of Garbage And Notices Something Moving Inside
She'd been thrown away like trash — but she turned out to be the sweetest, most affectionate pet.
A man was walking out by the dumpsters at his workplace in Indiana when he noticed a bucket full of garbage sitting next to one of the dumpsters — and something was moving inside of it. He took a closer look, and realized it was a corn snake, who had been thrown away like trash.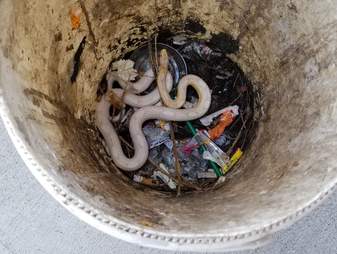 Avery Cook
While corn snakes are common pets, in the wild they're native to the southeastern U.S., which means the snake would struggle to survive on her own in the colder Indiana climate. The man then noticed another corn snake nearby who had already passed away, and that's when he knew that he had to take her with him.
The man took the snake and transferred her into the care of his son and his son's girlfriend, Avery Cook, who both have experience caring for reptiles. As soon as they saw her and heard her rescue story, they immediately agreed to take her in.
Avery Cook
"There is a lot of misinformation given out about how to care for snakes properly and a lot of people adopt snakes thinking they are an easy pet," Cook told The Dodo. "We didn't want her to fall into the hands of someone who wouldn't take care of her properly."
When the snake, now named Kairi, first arrived at her new parents' home, she was underweight but otherwise fairly healthy, and Cook and her boyfriend were amazed at how sweet she was despite everything she'd been through.
Avery Cook
"Even going through all the stress of being dumped and then handled by new people, she never bit or got defensive," Cook said. "Kairi is the calmest snake I've ever had."
As Kairi slowly began to gain weight and adjust to her new home, her sweet personality began to shine through even more. She quickly fell in love with her new parents, and now absolutely loves spending time with them every chance she gets.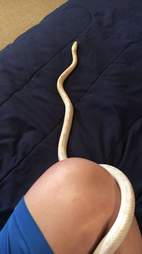 Avery Cook
"She loves to just be held and will lay curled up next to you for hours," Cook said. "Wherever you go up to her tank, she is very attentive and will come over to see you. She loves human attention and gets very excited when I open the tank to get her out."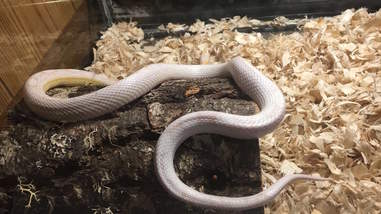 Avery Cook
Kairi is now up to a normal weight again and thriving in her new home. The snake is so content and very healthy, and her parents couldn't be happier that she found her way into their lives.
"Corn snakes can live upwards of 10 years and we are completely prepared to keep her and love her for the rest of her life," Cook said.