This Viral 'Shark Attack' Photo Isn't What It Seems
"Wild animals shouldn't be used as photo props."
Instagram model Katarina Zarutskie was in the Bahamas with her boyfriend when she got into the water with a group of nurse sharks while they were feeding. She wanted to "connect with nature," she told SBS News. Then Zarutskie floated on her back amongst the sharks, posing for a photo to share on her Instagram page — and something unexpected happened.
"I leaned back, and then that shark he came and he bit down on my arm and pulled me under," she told BuzzFeed News. "I am lucky to have my hand."
Instagram/Katarina Zarutskie
After the incident, Zarutskie released photos of the alleged attack, including a photo of her splashing in the water and an image of her injured arm — and she told her story to multiple news outlets.
"At that point your body has so much adrenaline going and you just have to get out of the situation, but I stayed extremely calm," she told BBC News. "I think if someone was screaming and flailing around it definitely could have changed the situation."
Yet shark experts warn not to believe the hype surrounding the viral "shark" attack photo. Despite the slight injury, they say, Zarutskie was never in any real danger. Nurse sharks are very gentle animals who feed on molluscs, stingrays and small fish — and they've never fatally injured a person.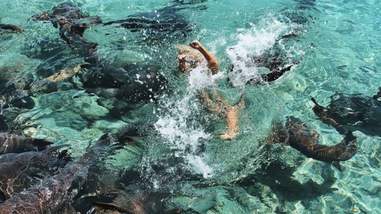 Instagram/Katarina Zarutskie
"The nurse shark is likely to have pulled the woman underwater in taking an exploratory bite out of curiosity, but because they have sharp teeth this resulted in a minor injury," Nicola Beynon, head of campaigns at Humane Society International Australia, told The Dodo. "It is very unlikely that the nurse sharks would have mistaken her for a food source, and she was not likely to be in any real danger."
"However, it appears as though there were many nurse sharks in the water and putting yourself in the middle of them is not the wisest idea," Beynon added. "These are wild animals and should be appreciated for their beauty from a safe distance. Wild animals shouldn't be used as photo props."
Zarutskie holding her arm up after being being bitten

| Instagram/Katarina Zarutskie
Gary Stokes, southeast Asia director for Sea Shepherd Global, said Zarutskie's quotes were misleading and that, by promoting her big claims among so many outlets, she could reinforce many people's unnecessary fears about sharks.
"I guess she got what she was after — she connected with nature," Stokes told The Dodo. "Sadly, in doing so she has helped fuel the 'Jaws' image."
Shark attacks are actually incredible rare, and sharks are only responsible for killing about five people worldwide each year. On the other hand, people kill nearly 100 million sharks each year. Many of them are killed for shark fin soup, a Chinese specialty dish. Sharks are also killed by recreational and commercial fishermen, as well as people's craze for selfies.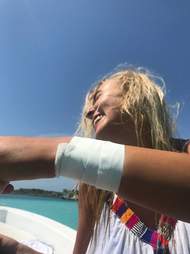 Zarutskie holding up her bandaged arm — experts say she was never really in danger

| Instagram/Katarina Zarutskie
A pervasive fear of sharks has also led governments to install baited drumlines and shark nets around popular swimming beaches in Australia and South Africa — and these have been responsible for killing endangered sharks like great whites, as well as many other marine animals like dolphins, whales, eagle rays and turtles.
"It's vital to understand that sharks, including nurse sharks, are under severe threat and are much more fragile than they appear," Beynon said. "Every year, it's estimated that 100 million sharks are killed and this is largely driven by the fin trade."