Dozens Of Elephants Were Just Killed So People Could Take Their Tusks
"The scale of elephant poaching is by far the largest I've seen or read about anywhere in Africa."
It's a grim discovery that has left conservationists speechless.
The bodies of nearly 90 wild African elephants, all shot with rifles, have been found in Botswana near a wildlife sanctuary. Most of the animals were males with large tusks, which were removed by poachers to be sold on the black market. Some of the animals' trunks had also been removed.
The loss is now one of the largest mass poachings in African history.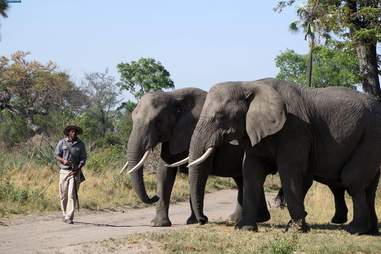 Two female elephants with a member of Elephants Without Borders

| Facebook/Think Elephants International
The gruesome find happened during an aerial survey of the land over the course of a few weeks this summer. As scientists with Elephants Beyond Borders and Botswana's Department of Wildlife flew through the area in planes, they spotted bodies upon bodies from the air.
"I'm shocked, I'm completely astounded," Mike Chase, director of Elephants Beyond Borders, told BBC. "The scale of elephant poaching is by far the largest I've seen or read about anywhere in Africa to date."
The mass killing is likely due to recent changes to Botswana's anti-poaching units, Chase said. Previously, the country's officers were armed with military weapons and had a shoot-to-kill policy against poachers. But in May, they were disarmed under policy introduced by new president Mokgweetsi Masisi.
"I am very concerned, it's a huge worry," Tshekedi Khama, Botswana's minister of tourism, told AFP. "I'm aware that the numbers are in double digit, and for Botswana they are high. Because we had been spared poaching for a long time, I think now we are realising the sophistication of these poachers. Unfortunately, sometimes we learn these lessons the hard way."
There is high demand for ivory across the world, particularly in Asian markets, where it's valued as a sign of social significance. To meet demand for ivory, these killings continue at a pace of around 100 elephants per day in Africa. The continent's elephant population has plummeted in recent years, from around 4 million in the early 1900s, to just an estimated 415,000 today.
Elephants need our help more than ever — and there are many ways to help.