People Open Up Abandoned Pillowcase And It's Full Of Snakes
Omg 😱
A group of people were heading past Farringdon Fire Station in Sunderland, England, when they spotted two pillowcases on the ground — and suddenly realized they were moving. Inside the pillowcases they discovered 13 snakes, and immediately contacted the RSPCA for help. 
"When I opened up the pillowcase, there was a bundle of snakes inside," David Dawson, an animal collection officer with the RSPCA, said in a press release. "It must have been a very strange discovery for the people who found them. They were abandoned next to a bin round the back of the fire station and left in extremely cold conditions."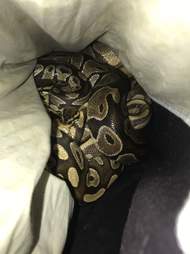 RSPCA
Dawson immediately rushed the snakes to a vet, concerned for their safety and well-being after being out in the cold for so long. Unfortunately, one of the snakes didn't make it, but the rest of them were miraculously OK and began receiving the care they needed as soon as they arrived at the vet's office.
Everyone at both the vet's office and the RSPCA was baffled as to how 13 snakes had ended up abandoned in pillowcases — and they were even more baffled when, two days later, it happened again. 
RSPCA
Two more pillowcases, containing 16 snakes total, were found outside the same fire station, much to the shock and dismay of everyone involved. The snakes were once again collected as quickly as possible and rushed to the vet's office to get the same care and attention the first group of snakes had received only days before.
"Having heard about the other poor snakes being abandoned earlier in the week, I couldn't believe it when the call came through to say there had been even more snakes found in the exact same spot," Heidi Cleaver, an inspector with the RSPCA, said in a press release. "I discovered 16 snakes in two pink pillowcases by the fire station. These snakes had been left inside the bin so they were incredibly lucky they didn't end up in landfill!"
RSPCA
RSPCA officers are now actively searching for who may have abandoned all 29 snakes, and are hoping to find the people responsible as quickly as possible so that they can prevent this from happening again.
"It is really concerning to think that someone has had around 30 snakes or more which they have decided to abandon in this cruel and callous way," Cleaver said. "We were in the midst of Storm Dennis at the weekend when these snakes, who need heat and light in order to survive, were left outside in the cold with just a pillowcase to contain them. It would have been very stressful for the snakes to be in such close proximity to each other as well."
RSPCA
Fortunately, the second group of snakes were all in good condition considering what they'd been through, and all the snakes are now being cared for at a reptile specialist center. They're all very lucky they were found when they were, and the RSPCA will continue to take steps to ensure that something like this never happens again.
Anyone with information about how these snakes ended up abandoned can contact the RSPCA at 0300 123 8018.