People Shocked To Find 20,000 Bees Hanging Out On NYC Sidewalk
One guy knew exactly what to do to help the bees 👏
As residents and visitors of New York City were strolling along and enjoying the warm weather on Monday, they quickly noticed they weren't the only ones outside and taking advantage of the long weekend. On the corner of a building in Sunnyside, Queens, a whole swarm of bees decided to make their presence known …
Darren Mays
… 20,000 bees, to be exact. 
Twenty thousand bees hanging out on a New York City sidewalk is not an easy thing to ignore, and crowds quickly began to gather around the huge swarm. There were so many bees that it was becoming difficult for people to walk along the sidewalk, and so eventually a pedestrian put in a call to the New York City Police Department, hoping they could help.
Officer Darren Mays has been working with bees for 11 years, and has his own apiary in the Hudson Valley. He's been helping rescue bees across the city for years now, and so while everyone else was a bit bewildered encountering 20,000 bees, for Mays, it was just another day.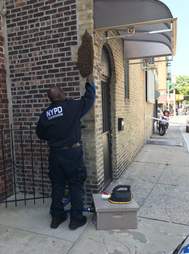 Darren Mays
"The onlookers were amazed and taking pictures," Officer Mays told The Dodo. "Some of them were gazing so hard that they were walking into the police tape at the scene and right in the line of vehicle traffic."
Once Mays and his fellow officers had secured the area, he was able to use a special bee vacuum to gently suck the bees off of the building wall, so that he could transport them safely to his apiary where they could buzz around in peace.
Darren Mays
"It's a Colorado Bee Vac that has a very low suction to prevent the bees from getting injured while they are being vacuumed up in the vacuum," Mays said.
Before long, the bees were safely removed and on their way to the Hudson Valley, and the sidewalk became safe and clear for pedestrians again. This wasn't the first call that Mays had received regarding huge swarms of bees, and it certainly won't be the last. He's gotten some crazy calls over the years, so by now, no amount of bees in even the weirdest of places could faze him.
Darren Mays
"The craziest bee job that I've gotten a call for was on Father's Day last year in Times Square," Mays said. "The bees gathered on a police camera in the heart of Times Square and a large audience gathered rather quickly."
No matter the call, though, Mays is always happy to help, and will continue to rescue bees in sticky situations and transport them to his little sanctuary for as long as he needs to.