"Excuse me ma'am, can we come in for a moment? You may have an unconscious Merlin on your balcony." The woman stared at the officers blankly. "Excuse me?"
Whether she knew about the injured bird on her balcony, or she thought that she would find an ailing wizard, the officers from Animal Care & Control of NYC (AC&C) were allowed inside to rescue the Merlin and bring it to the Wild Bird Fund for rehabilitation.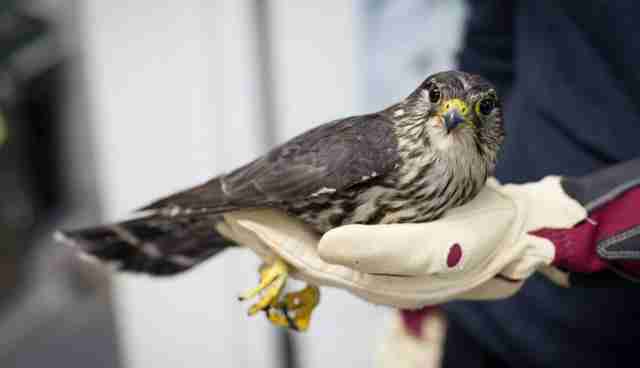 AC&C had been alerted to the accident by a neighbor who saw it happen from her apartment across the backyard. It was a freezing cold day and time was critical: in a scene straight from Rear Window, the neighbor had to direct AC&C to the right apartment by counting the balconies she could see from her window.
It was not clear whether AC&C would find an injured Merlin, or a dead one. The Merlin (Falco columbarius) is a small pigeon-sized falcon that hunts songbirds at incredible speeds: they have been clocked reaching 30 mph, and at that speed, a collision with a window would break its neck.
At the Wild Bird Fund Rehabilitation Center, the Merlin was given fluids and a dark room to rest in. Birds that survive a window strike might simply be stunned, and are able to fly away after some rest, but in cold weather, hypothermia could set in before they have the chance to recover. That's exactly what would have happened to the Merlin had he not been rescued.
Once our patient had recovered from the head trauma, he was examined for broken bones and monitored for more serious injuries. Window collisions can break or tear wings, and even those lucky enough to fly away unharmed may succumb later to internal bleeding. We were thrilled that the Merlin cleared his exams and was approved for release.
Most people don't associate birds of prey with the city, and imagine that the only safe place to release a raptor is in the woods. But Merlins do well in New York, and many other cities, because there is an abundant, year-round supply of house sparrows, their favorite prey.
We took the Merlin out to the Pinetum, home to the largest collection of pine trees in Central Park, and perched him on a gloved hand. He paused for a moment to pose for the camera, then turned towards the trees, outstretched his wings, and took flight.
By: Sara Alaica Photos: Charles Chessler Photography