[Editor's Note: This is part of our Story Behind The Shot series. Got a great shot? Got a great story? Join The Dodo and tell us about it.]
Loons don't understand parking lots. After it rains, they confuse the flat, glossy expanse of asphalt with the shimmering surface of a lake or pond, where they hunt for fish and crustaceans. It's only after they land do they realize their mistake, and by then it's too late -- they're stuck.
This is because the Common Loon (Gavia immer) is built perfectly for a life on the water and only goes ashore to mate and lay eggs. Their legs,which are positioned far back on their body, are perfect for propelling them through water, but are terrible for walking on land.
They're also really heavy. Most birds have light, hollow bones, making it easier for them to fly, but loons have solid bones that make them less buoyant, and better divers.
All of this means that getting up in the air is a bit harder: Depending on the wind, loons need up to a quarter-mile stretch of water to use as a runway for lift off. And if they mistakenly land somewhere where there's no water at all? Then they simply have to rely on the kindness of strangers.
This loon was found stranded in a Brooklyn parking lot, and was brought to the Wild Bird Fund Rehabilitation Center in Manhattan with a few scrapes on his wings and legs, most likely from being on land and trying to drag his body with his wings.
Luckily the injuries were superficial, and he swam and dove like an expert in the waterfowl rehabilitation pool. He ate over 25 feeder fish at one meal, which is not uncommon. Two loons and their chicks can put away a half-ton of fish in just under four months!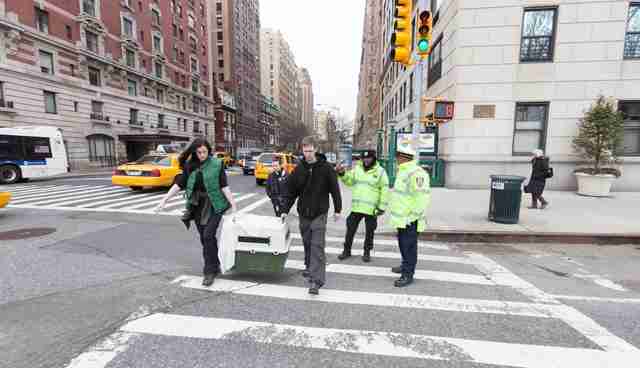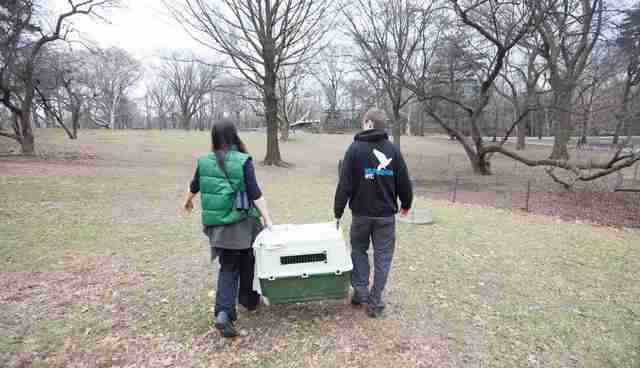 We collected a few volunteers to help us carry his heavy cage to the lake in Central Park in New York City. The movement and noise had made him very quiet, and he sat huddled at the back of the carrier, which got us worrying. Did he need more time to gain his strength? Had something been overlooked?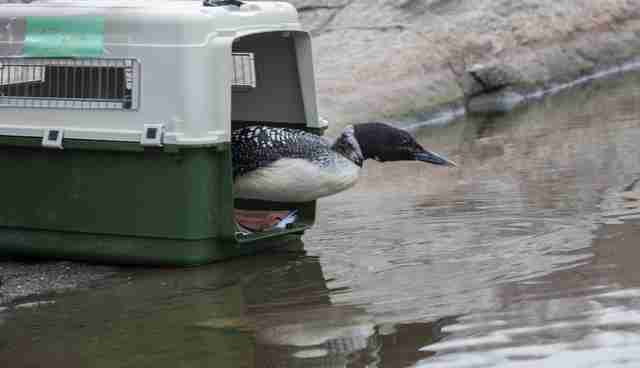 It hadn't. Once we opened the cage door at the water's edge he dove right into the lake, surfacing with a tasty snail in his beak. We watched as he slowly swam away, preening his feathers and flapping his wings vigorously, spraying out an arc of water around him.