New Baby Bobcats May Be The Cutest Kittens On The Planet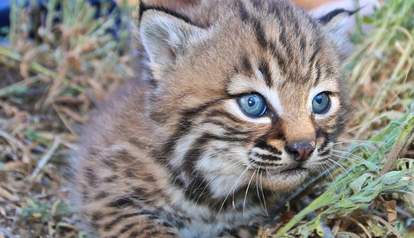 <p> <a href="https://www.facebook.com/media/set/?set=a.10152856524238660.1073741866.80124818659&type=1">Facebook/NationalParksService</a><span></span> </p>
This adorable pair of bobcat kittens born in the Santa Monica mountains earlier this month were no surprise delivery - biologists with the National Parks Service had been awaiting their arrival.
With the help of a GPS tracking device, rangers had been keeping tabs on the kittens' mom as part of a 20-year study on bobcats in the area, the Ventura County Star reports. And while mom was away from her den, biologists carefully and quickly stopped by to give the kittens their own tags.
The kittens also got a check-up from biologists, who made sure they were healthy and took blood samples back to the lab. They're naming the kittens B326 and B327 - names that really don't capture their off-the-chart cuteness.
Of course they had to do the whole work-up before mom came back to the den.
Rangers uploaded photos from the check-up to Facebook, and they were quick to point out the difference between bobcats and mountain lions for anyone who might be confused.
"See the tufts at the top of B327's ears? In addition to different markings on their fur, that's one of the ways to distinguish a bobcat kitten from a mountain lion kitten!"