Travis and Amanda Patenaude are a pretty average Midwestern couple. They live in a small Chicago suburb in an unassuming home. She works for a vet. He's a network administrator. You might give them a smile if you noticed them sitting next to you at your local Chili's or standing in line at the grocery store but you might not remember them the next day.
File this under "Never underestimate the ability of ordinary people to surprise and inspire you."
In 2012, the Patenaudes met, and adopted, their first Galgo, a Spanish breed similar to a greyhound. The couple had long been involved with greyhound rescue but Leena (a female, or "Galga") caught their attention through a local rescue. She was a sweet dog but it was evident she had been traumatized in her life. Once the Patenaudes learned her story and the conditions facing the breed, they were compelled to become involved in the international rescue effort. They started Love Hope Believe Galgo Adoption in 2013. What follows is an interview with Amanda.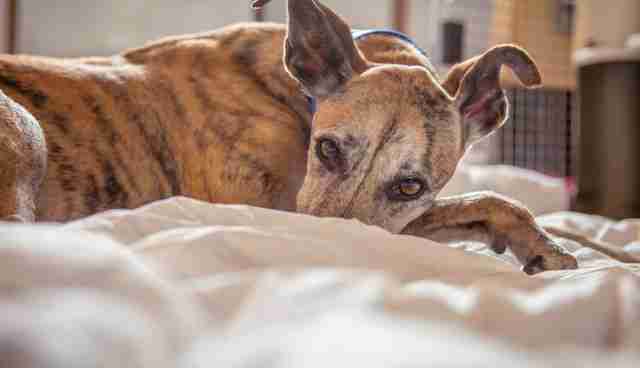 Adoptable Kisko practicing his 'you cannot resist this Spanish hunk' gaze.
Amanda, can you share with us the specific plight of the Galgos?
Thousands of years ago, Galgos were owned by royalty and it was punishable by death to kill one. Today, Galgos are used only for hunting and hunting competitions in Spain by the Galgueros (hunters). As such, they are essentially tools, bred, conditioned and selected for one purpose, through barbaric means. Abuse of the dogs is part of the culture they come from. They are not considered worthy of "family pet" status.
Today, it is estimated 40,000 to 50,000 Galgos are killed each year.

A Galgo's life expectancy in Spain is 2-4 years old. If a Galguero has a female that is a relatively good hunter they may keep her for breeding. Galgueros will typically keep one male and 4 females through the off season in the hopes of producing one really good coursing dog.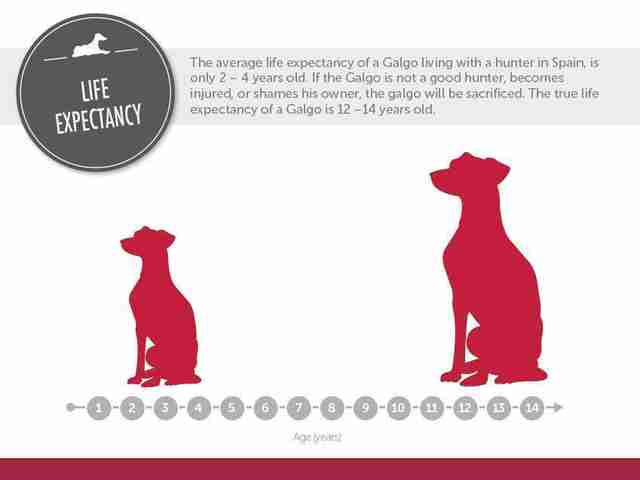 The Galgueros have very clear expectations for the hunting performance of the dogs. Not only are poorly performing hunters discarded but a dog that performs too well (thus taking the sport out of the competition) is considered a 'dirty' hunter and is sacrificed.
In addition to inhumane conditioning practices, such as forcing leashed dogs to run attached to cars for many kilometers at fast speeds, part of the culture of the Galgueros is to dispatch of the unacceptable dogs in very abusive ways. There are many superstitions in the culture and there is some belief that abusing a dog in a bad hunting year will help ensure more successful hunting in the next season.
Many Galgos are hung in trees. If they are hung high in the tree, it symbolizes that they were considered good hunters. It is a sign of respect. But many are hung by a method called "piano playing". These are the ones that disgraced their Galgueros and are hung so their back feet can just touch the ground. The Galgo dies much more slowly as they begin to tire of holding themselves up and are slowly strangled by the rope. Many Galgos are set on fire, thrown in abandoned wells, or severely injured to prevent them from hunting on their own. Even more are hit by cars. They are persecuted simply because they are Galgos.
Leena, our first Galga, was about to be hung when a passerby happened upon the situation and intervened. She brought Leena to a rescue in Barcelona and ultimately she came to the U.S. From that single act of kindness, our lives were changed and a rescue was born.
What are the breed characteristics of Galgos? They appear to be much like Greyhounds. Are they?
Adoptable Jordan with his favorite toy. Photo: Travis Patenaude We like to tell our adopters that Greyhounds are "book smart" and Galgos are "street smart"!
While a greyhound has lived a very structured life, a Galgo has had to fend for itself. They learn how to "survive" the best they can. Galgos are very clever and learn very quickly how to get what they want! Their physical appearance differs in more subtle ways. For example, Galgos are smaller in height, with a more narrow frame and longer muzzles. Galgos are trained to run very long distances at fast speeds (trained behind trucks driving 35mph for 15 km). Greyhounds are sprinters.
How does Love, Hope Believe Galgo Rescue prepare dogs for adoption once they reach the U.S.?
The galgos of LHBGA are mainly fostered in our home (as we have very few foster homes in our area) where they are taught "House Rules". We work on basic obedience and house breaking. Because many of the galgos we take in to our rescue have been on the streets or in a shelter for an extended time, many are fearful of humans. We work hard to socialize them and help them overcome some of their fears. Galgos are very smart which means they can keep us on our toes! They love to play and run around the yard. Galgos are very vocal and physical players, but they are also BIG cuddle bugs!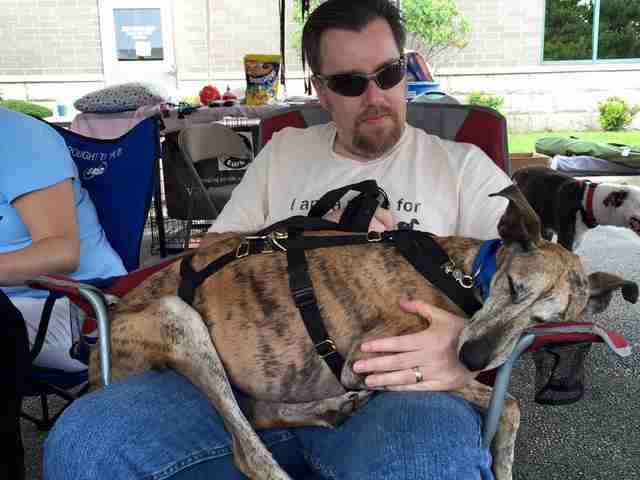 Adoptable Kisko, shown with Travis Patenaude, demonstrates the 'cuddle bug' technique.
Amanda, what do you say to people who ask why dogs should be brought here from another country when there are homeless dogs in the U.S.?
I love when people ask this question because it opens the door for a discussion about their plight. Yes, the US has a very large number of dogs in shelters and I am all for finding the right breed to fit your family and lifestyle. For some people, it is a Galgo.
Our goal is to raise awareness and help make space for the next Galgo to be rescued. Saving one Galgo may not change the world, but for that one Galgo, the world has changed forever!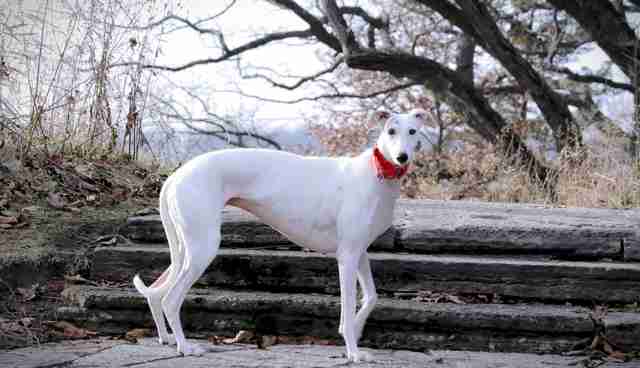 Adoptable 7 y.o. Kahlessi displays the elegance of this captivating breed.
What can someone inspired by their story do to help the dogs of Spain?
Our first answer is to help spread awareness for the plight of the Galgos in Spain. The more people know, the more people protesting and shining the light on the issue, the pressure on Spain to correct the issue will increase. Many people that adopt a Galgo, suddenly become a member of a community of Galgo/Greyhound lovers! (All dogs pictured in this article are currently available for adoption.)
If you can't adopt, there are always ways you can help! We and other Galgo rescues are always looking for foster homes. Social media sharing certainly helps spread the word. (Here is LHB's Facebook page.)
We collect donated items for the Galgos of LHBGA and for the Galgos in Spain (coats, martingale collars, leashes, first aid supplies, flea and tick preventative, heartworm preventative, as well as monetary donations). Galgo rescues can always use help to cover transport costs and medical care for the dogs. As with all rescues, if you have special skills such as sewing, graphic design, writing, marketing, accounting, these are great ways to help out.
Whatever your skills and whatever your passion, whether it is the Galgo or some other story that touches your heart, there is always a way to participate. Each of us has the power to be a force for positive change in the world. You simply have to decide to begin.
Thank you, Amanda, for this insight into the plight of these magnificent dogs and for the work LHB Galgo Rescue does on their behalf!
And a special thanks to my fellow animal welfare blogger at Rubicon Days, who helped to bring the Galgos' story to light and allowed myself, the Patenaudes and members of our local training community to connect the dots here in Illinois, helping us strengthen our mutual efforts for their cause.