People Save 92 Dogs From House — Then Find Even More Hidden Away
They were all Yorkies and they'd been neglected — and some still need new homes.
After an elderly couple hoarding way too many Yorkies realized they were in over their heads, they contacted the San Diego Humane Society for help. They said there were 30 dogs in their home — but when staffers went to investigate, they found 92 Yorkies living there in very poor conditions. 
 
San Diego Humane Society
Everyone was shocked by just how many dogs were crammed inside the home — and could see how much they desperately needed to get out of there as quickly as possible. It took several hours to rescue and transport all 92 dogs back to the San Diego Humane Society, and luckily staffers were able to find space for each and every one of them.
As soon as the dogs were safely out of the house and in the care of their rescuers, they began to receive treatment for a myriad of issues. 
 
San Diego Humane Society
"All of the dogs had severe skin conditions, their fur was matted with feces — as we began grooming them, the matting that we took off weighed more than the dog, in some cases," Kelli Schry, communications manager at the San Diego Humane Society, told The Dodo. "Some of the more severe medical cases had rear leg deformities and severe ear infections that required extensive treatment."
San Diego Humane Society
Most of the Yorkies were just blobs of fur when they were first rescued …
San Diego Humane Society
… but after a little TLC, they all began to look a whole lot fluffier and happier.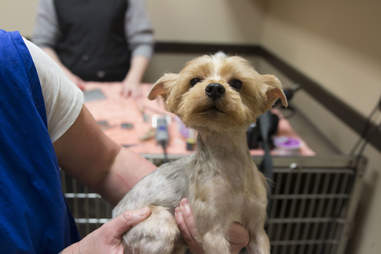 San Diego Humane Society
Despite the couple's initial cooperation, it was later discovered that they had even more Yorkies hidden at two more locations, and because of this, charges had to be filed. The couple recently pleaded guilty to animal neglect. They are facing probation and have been banned from owning pets for 10 years.
"An additional group of dogs was found at another location that the couple owned — they had moved a group of dogs there," Schry said. "And then the rest were found in an RV that the female owner left town in. We found the remaining dogs through an investigation led by our Humane Law Enforcement department." 
 
San Diego Humane Society
After the additional Yorkies were found, and some of the pregnant dogs gave birth to litters of puppies, the total number of dogs rescued skyrocketed up to 183. The San Diego Humane Society vowed to help find homes for every single one of them.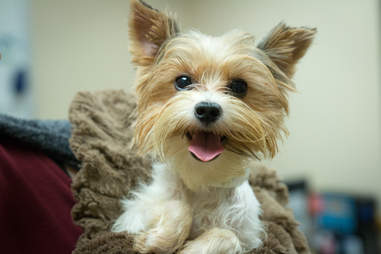 San Diego Humane Society
"I'm happy to say that most of the dogs have been adopted," Schry said. "We still have a handful in our care — some of the more extensive medical and behavioral cases that needed more prolonged care — that are available for adoption and still searching for homes."