Skinny Dog Who Was Hidden In House Looks So Much Happier Now
Neighbors saw what was happening and helped save his life 👏👏👏
When some residents in a neighborhood in Wirral, England, suspected two dogs had been abandoned inside a home, they contacted the RSPCA in hopes that it could help. Inspector Anthony Joynes went out to the home to investigate — and was shocked by what he saw through the windows of the dismal home. 
"The dogs were reported to us as being abandoned in the house so I went round to see if I could see any sign of them," Joynes said in a press release. "I couldn't see any food or water out for the dogs. I was really concerned for the dogs' welfare because they were extremely skinny." 
RSPCA
From what he could see through the windows, Joynes knew the two dogs needed help, and so he contacted the local police to request access to the property. He then went to a nearby vet practice to see if one of the vets would be on call to assess the dogs after their rescue, as he feared they were dangerously sick.
Once he'd done all this, he returned to the house — and found that the dogs' owner, Zoe Finlay, had returned.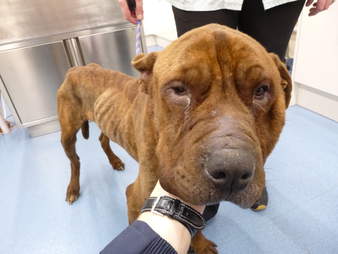 RSPCA
"I banged on the door and Ms. Finlay answered," Joynes said. "I could see Hugo, a young Dogue de Bordeaux, in the kitchen and he was extremely underweight. She admitted that she was struggling to cope and everything had got on top of her. She agreed to sign Hugo over into RSPCA care but denied any knowledge of a second dog."
After a little pressing, Joynes was able to get Finlay to admit she had another dog, a mastiff named Vinnie, in an upstairs bedroom. As soon as the dogs were in his care, Joynes rushed them both to the vet, just in time to save their lives.
RSPCA
"They were both so skinny, you could see all of their bones," Joynes said. "But Vinnie was my major concern. He was incredibly thin and vets said his organs had started to shut down. They told me that if he'd been left for a day or two longer he would have died."
Hugo weighed about half of what he should have, and Vinnie weighed even less than that. The two dogs, who were meant to be huge and happy, had been reduced to nothing but skin and bones — and luckily, their former owner has been held accountable for allowing them to get to that point.
RSPCA
Finlay pleaded guilty to three offenses under the Animal Welfare Act. She was sentenced to three months in prison and has to pay a fine, and has been disqualified from keeping animals for the rest of her life.
"Ms. Finlay let her dogs down badly," Joynes said. "She could have asked for help but she chose to do nothing."
RSPCA
Despite the horrendous conditions the dogs were found in, both were somehow able to make a full recovery. They both needed eye surgery, and a lot of additional specialized care, but the dogs are now thriving. If the concerned residents in their neighborhood hadn't reached out to the RSPCA, the dogs might not have made it, but instead, they both got the happiest of endings.
RSPCA
"After just five days of round-the-clock care and proper feeding at the vets, Hugo had gained more than 3 kg in weight and Vinnie had gone up by almost 6 kg," Joynes said. "Now, both dogs have been rehomed and are enjoying their lives with their new families, safe in the knowledge that they will never go hungry again."