Pig Left At Shelter Because She Got Sick Takes Her Teddy Bear Everywhere
"Fern loves her teddy bear. She sleeps with it and roots in it every night."
Fern was purchased from a "miniature pig" breeder by a family and lived with them for the first part of her life. As a piglet she suffered from a seizure, and after that struggled to walk and even fell down a flight of stairs. Due to her health issues, Fern's family decided she was too much work and brought her to their local shelter — and asked the staff there to euthanize her.
Fern's family left her at the Wake County Animal Shelter in North Carolina with nothing but her teddy bear to keep her company, and didn't even tell the shelter what her name was. The poor, sick pig was absolutely terrified, and after examining her and getting to know her, the shelter decided there was no way they were going to end her life.
She may have been sick, but everyone at the shelter knew that sweet little Fern deserved a chance.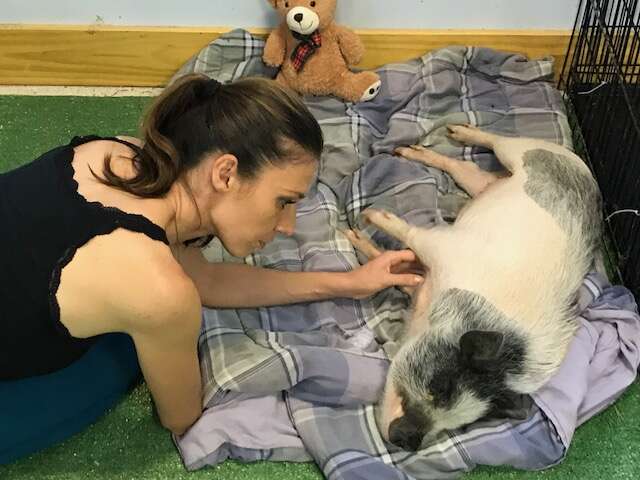 Since Fern was a little too much for the shelter to handle on its own, it contacted The Blind Spot Animal Sanctuary to see if it could help, and within a matter of hours, Fern and her teddy bear were safely in its care.
"She was so sweet and social but absolutely petrified being at the shelter among barking dogs," Alesja Daehnrich, cofounder of The Blind Spot Animal Sanctuary, told The Dodo. "The shelter decided to get her help ASAP and called us. I couldn't say no."
Fern's rescuers immediately rushed her to a vet to get checked out. After examining her, they came to a surprising conclusion — Fern was not a piglet as her family had thought, but was actually at least a year to a year and a half old, despite being the size of a piglet at only 30 pounds. Unfortunately, Fern's tiny size was likely not an accident.
"This is the result of unscrupulous breeders creating these 'micro/teacup' pigs, breeding the sick and starved ones to keep pigs as small as possible and to sell them as a special line of pigs, only they are never healthy," Daehnrich said.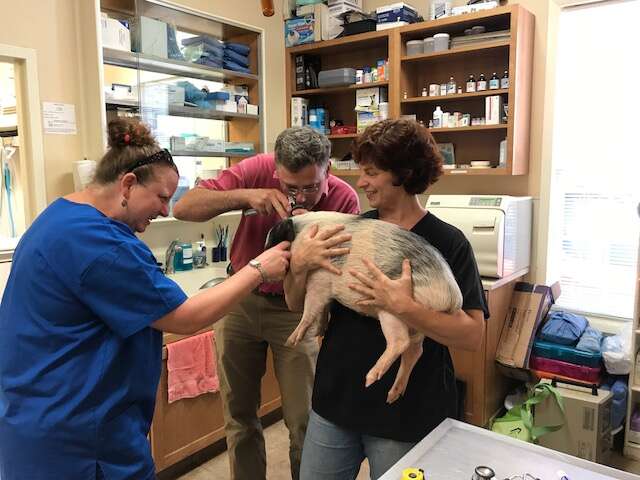 Unfortunately, Fern's exact medical diagnosis is still unclear. Her issues could have been caused from inbreeding, damage from her seizure or the result of not being fed a proper diet. The vets put her on some medications they hope will help, and have also scheduled an MRI for her to see if they can learn anything else about her health issues.
In the meantime, Fern is now happily settling into life at the sanctuary. Due to her issues, her rescuers are in the process of creating a special space for her, complete with air-conditioning and special carpeting to help her get around more easily. Her former family may not have cared enough about her, but Fern's new rescue family is making sure she's as comfortable and happy as possible.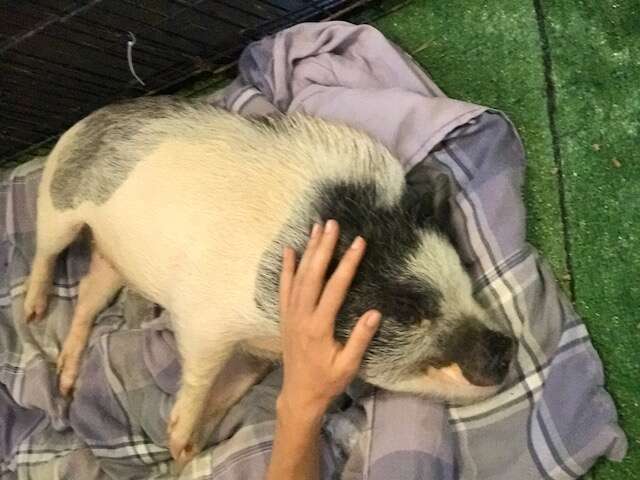 Despite her balance issues, Fern is incredibly social and loves to greet and cuddle every new person she meets. She loves to explore outside and eat lots of treats, but her favorite thing in the world is still her teddy bear, which has stayed with her every moment of her journey, from her former home to the shelter to her new life at the sanctuary.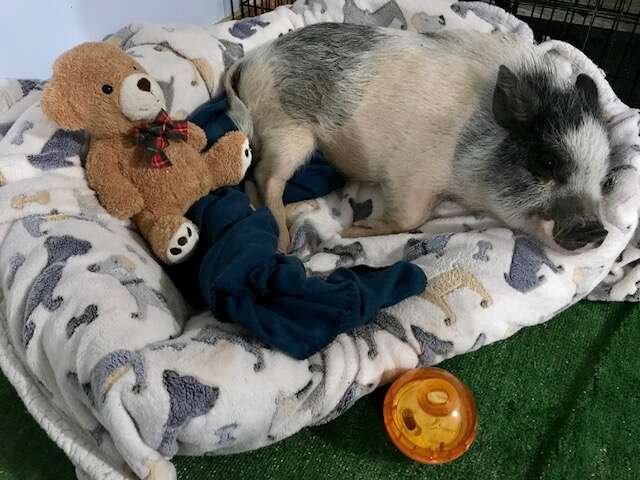 "Fern loves her teddy bear," Daehnrich said. "She sleeps with it and roots in it every night, probably because this was her only familiar smell when she spent the night at the shelter."
Fern's teddy bear has brought her comfort even in moments when things seemed hopeless. She and her teddy bear are finally safe now, and will never be unwanted or unloved ever again.
"She has been through so much and her humans as well as the breeder failed her miserably," Daehnrich said. "We so hope we can help this sweet girl."
If you'd like to help other animals like Fern, you can donate to The Blind Spot Animal Sanctuary.