Police Find 27 Very Dirty Puppies Being Smuggled In Wooden Boxes
Fortunately they're all safe now — and will soon be looking for real homes.
When a shipment of large wooden containers arrived at Cairnryan Port in Scotland, the police and security there were immediately suspicious. They were able to seize the shipment as a part of Operation Delphin, a task force set up to fight the illegal puppy trade. They opened up the containers …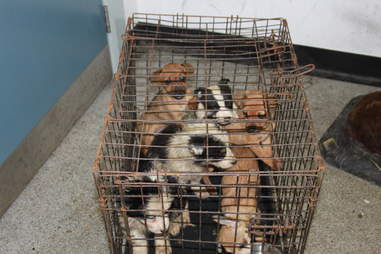 Scottish SPCA
… and their suspicions were immediately confirmed when they discovered 27 puppies inside.
The puppies' breeds included collies, Chihuahuas and spaniels. Rescuers quickly freed the puppies from the cramped containers and transferred them into the care of the Scottish SPCA. 
Scottish SPCA
"Unfortunately, the puppy trade is big business in Scotland, with thousands of dogs being brought into the country each year from Northern Ireland and the Republic of Ireland, in particular from large-scale puppy farms," an undercover inspector in Scotland said in a press release. "They are then sold on at huge profit by the dealers." 
All of the puppies were dirty and terrified, and were so relieved when their rescuers finally saved them. 
Scottish SPCA
Since the puppies originally came from Ireland, they were sent back there and put in the care of the ISPCA, which immediately set about ensuring that the 27 puppies were all safe, happy and healthy after having to endure such a scary ordeal. 
"The manner in which these puppies were concealed illustrates the lengths to which these unscrupulous dealers will go in order to make money from unfortunate animals," Conor Dowling, chief inspector with the ISPCA, said in a press release. "For some people, that potential profit outweighs the suffering caused to vulnerable puppies. The ISPCA will be making further enquiries with regard to the origin and transport of this group of pups."
Scottish SPCA
Puppies who come from puppy farms or backyard breeders can often end up very sick with terrible diseases such as parvovirus. Luckily, the 27 pups are doing well so far, and the ISPCA is hopeful that they will all be able to go off and find loving homes when they are ready.
"The puppies are currently receiving veterinary assessment at the ISPCA National Animal Centre in Longford," Dowling said. "They are not yet available for adoption, but will be in the coming weeks. As always, we would like to appeal to anyone who is looking for a dog or puppy to please act responsibly and consider adopting from a rescue rather than going online to buy one."
ISPCA
The best way to fight the illegal puppy trade is to adopt from a rescue or shelter, rather than buying a dog from a breeder, and both the ISPCA and the Scottish SPCA urge people to come and check out the countless wonderful animals they have in their care, who are all in need of loving homes.