I'm sitting on a bluff looking west over Haro Strait - an immense, slate-gray artery of the Salish Sea's connection to the Pacific Ocean. The boys are down on the beach below, carousing in the sunshine. I see plumes, just south.
"The whales are coming back," I shout at the top of my lungs. The boys and my husband come scrambling up the hillside. My husband and older son move down in front of me. We are 50 feet above the water, a natural amphitheater overlooking this cove. We've already seen some of the Southern Resident killer whales swim by earlier, at Lime Kiln Point just north of us. But something's different this time. I see my son, camera in hand, hunched forward in awe. The whales spread out. They're in fishing formation. All ten of them in an arrow-straight line, side-by-side like a living wave, coming right towards us. My younger son sits with me, rapt.
Our sons look out over Penn Cove. (Photo: Rachel Clark)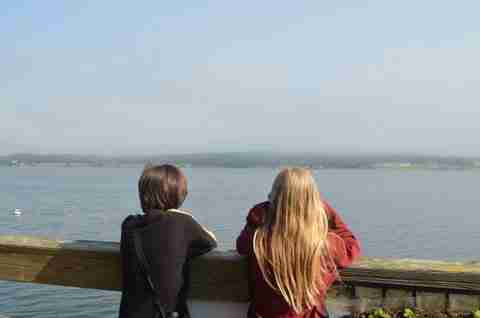 "They're herding the salmon," I holler down. This is what's different. The older one nods. His shutter is snapping fast.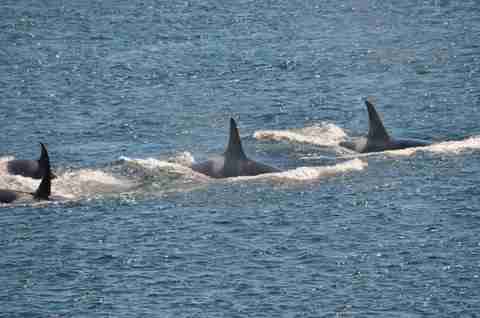 Inextricably linked with salmon for tens of thousands of years, the Southern Resident killer whales intertwine with Chinook salmon as the pinnacle totem symbol of the Pacific Northwest. In fact, the other reason we're here is because of salmon - my husband studies the impact of dams across the PNW on salmon populations.
So my boys are no strangers to stories and data and science-driven soliloquies on all things Nature. Because here's the thing. What our boys learned on San Juan Island is the antithesis of what a captivity-based theme park can ever give them. And yet even here in "the wild," the looming specter of the capture era darkens the Salish Sea. Before we boarded the ferry from Anacortes to San Juan, we took the boys to Penn Cove on Whidbey Island.
The week before, I'd shared the documentary Blackfish with the boys, so they knew about Penn Cove and the capture era - when it finally ended, it had ripped away or destroyed close to a third of all Southern Residents.
[WARNING: Graphic videos. To see what happened in Penn Cove, watch this short segment of Baby Wild Films Presents: The Killer Whale People or read Orca Network's overview of the capture era. You can learn more in from the documentary film Blackfish.]