Six and a half years ago, I met the timid, distrustful, emaciated stray who would become the best cat I've ever had. His name is Smuggz, and he found me at the most inopportune time.
It was June 2009 and my whole family was focused on the task of preparing our one, lush acre of land in rural Missouri for my sister's wedding. My dad spent hours crafting a pergola to shade the bride and groom during their vows, my mom planted flower gardens everywhere and, when I wasn't lending them a hand, I was mentally writing and rewriting my maid of honor toast. We were all busy playing our part - and we were hectically enjoying it.
When we weren't working on setting the stage for my sister's big day, we were sitting on one of my parents' three porches talking about the upcoming event. It was a busy, festive, humid time - and if it weren't for my sister's approaching nuptials keeping me outdoors, I don't know if I would have found Smuggz when I did.
Smuggz surveying his territory. Elizabeth Enochs
I was walking from the front porch to the pack porch, head bowed to the midday sun, when I saw him hiding under the pool deck. He was a skeleton with fur, and his black-brown fluff blended so well with the crusty mud he was camping out in that I had to look twice to be sure of what I was seeing. Sure enough, I discovered a cat I'd never noticed before. He looked terrified.
Since then, Smuggz has been a constant in my life. When I moved away to attend college, living on my own for the first time, Smuggz came with me. At first, he was the only friend I had and his presence made my new adventure a little less lonely. His paw in my face served as a back-up alarm clock, and he actually kept me from being late to class on more than one occasion.
When I fell deeply in love for the first time, Smuggz was there for that, too. Initially, my now-ex was slightly allergic to Smuggz. As they grew closer, though, my ex's allergies managed to shrink as my love for him grew. After nearly a year of dating me, and getting to know my cat, my first love moved in with us. Smuggz and I made room for a third party, and we became our own little family. It was blissful at times.
Smuggz and I posing for my ex in our old apartment. Elizabeth Enochs
When that relationship ended, it felt like a family was being split up instead of just a couple. My ex may have been just as sad to say goodbye to our furbaby as he was to say goodbye to me, and I don't blame him - because Smuggz is an exceptional cat, and a loyal friend.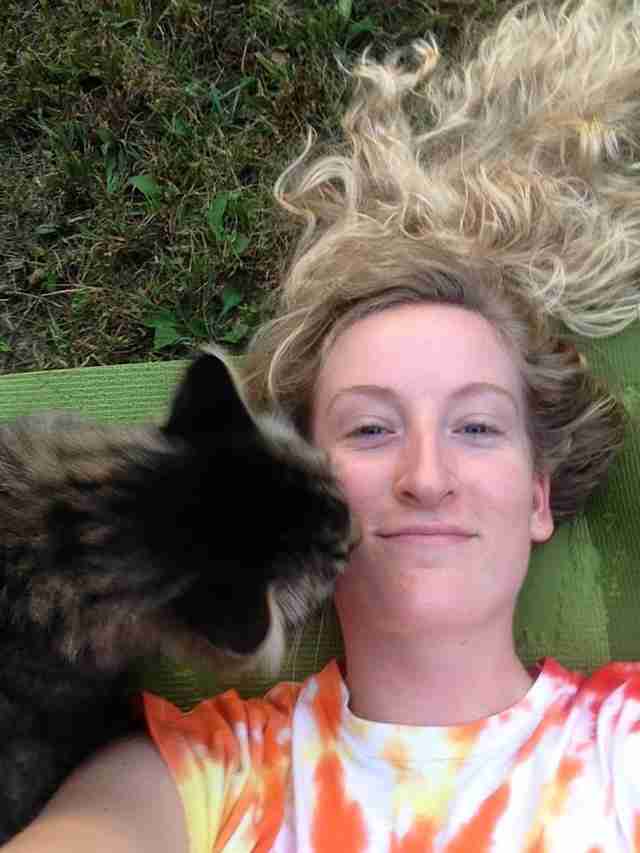 It's been almost four weeks since I've seen my little dude, and I miss him. But as I write this essay from my new abode, I know I made the right call. Putting Smuggz through the stress of travel only to confine him to my little room would have been borderline abusive. He deserves fresh air, stability and space. He deserves peace and quiet and more affection than I would have had time to give him as I adjusted to city life.
I've counted on Smuggz to help me ward off loneliness for years, so leaving him behind when I moved to New York was really hard. It's still hard sometimes. But loving your pet means putting their needs first.
Hopefully, the day will soon come when Smuggz and I can live together again. Until then, I'm just grateful I was able to leave him in the loving hands of family.