I Fell In Love With The Most Resilient Baby Chimp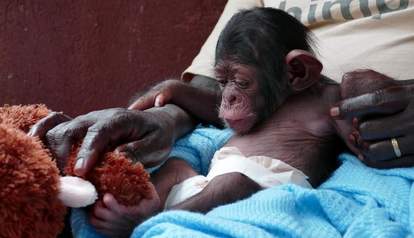 The newest resident at Ngamba Island Chimpanzee Sanctuary in Uganda is a little boy born on March 27. He had a bit of a rough start, but has been getting stronger and putting on weight thanks to TLC from an amazing staff of caregivers. Pretty soon, he'll be getting a new name, but for now he's known as "Mr. Survivor," in recognition of his strong spirit and his journey back to health.The sanctuary is providing him with round-the-clock care and special rehabilitation.
I sit on the board of directors for Friends of CSWCT, a non-profit that supports the the sanctuary and other efforts to protect chimpanzees in Uganda. While I was at the sanctuary recently, I had the chance to meet this little guy. Needless to say, I fell in love with him straight away. I wanted to share a short video that was one of my favorites. I hope it will make you smile.
During my last check in with the sanctuary, the vet team assured me that Mr. Survivor is still making great progress. He's getting loads of TLC; he still takes comfort in his stuffed toy and he has a strong, loving bond with his primary caregiver, Betty. The best news they shared was that this tiny little guy was starting to become more curious and even motoring around on his own a bit. Those are signs that he's on right on track in terms of his health and rehabilitation. He'll need special care for some time yet before he's ready for a reunion with his chimpanzee family. We'll keep you posted.
Love the video? Please share it with your friends and follow this link to find out how you can stay up to date on the baby's progress and help the sanctuary: http:/friendsofchimps.org/ngamba-baby