(All photos were taken by me, Jasmine Monrouxe, and this article is also published on my website.)
The world we live in is truly amazing. With traveling becoming more and more accessible and popular amongst young adults, it's no surprise that a lot of us are doing it. But with the rise in numbers of people traveling, comes a higher demand to "entertain" the masses. A lot of people travel to escape their home towns, soak up the awe-inspiring landscapes, experience new climates, cultures and of course - wildlife.
I remember the first time I travelled to an eastern country: Bali, Indonesia. As an animal lover I was constantly hyped up by the amazing creatures that seemed to be everywhere. I was also heartbroken by all the homeless cats and dogs that roamed the streets. I just wanted to scoop them up and take them all home with me. But being able to see monkeys, elephants and tigers for a fraction of the price (or free) than going to a western zoo almost made me forget about the animals I saw suffering in the streets. Then one day, the opportunity to ride an elephant presented itself to me. Blindsided by the fact I would actually be so close to such a majestic creature, I went ahead and booked my experience at an "elephant camp." I cringe every time I think back to myself sitting on top of that poor, broken spirit of an elephant. I deeply regret my actions and I wish I could go back and stop myself from doing something so selfish and thoughtless.
The reason I am writing this post is because since then, a lot of people I know that have gone to an eastern country have fallen in to the same trap - but the majority of these people don't care to know the truth or understand that behind all this, animals are suffering every day in the name of entertaining naive tourists. Since discovering what happens to the elephants in order to allow people to ride them every day, I want to make other people aware. When I see photos of people I know riding elephants, my heart sinks and I feel bitterly disappointed. Especially if this is a person I have previously "preached" to about what happens to the elephants. 90 percent of people I talk to about this instantly recoil in shame and agree that they to wish they had never climbed on top that poor creature. But the other 10 percent just kind of shrug it off and think that because elephants aren't humans, their emotional turmoil simply isn't anywhere near as important as getting that Facebook-profile-worthy picture upon an elephant.
What exactly is going on that makes all this so bad? Let me tell you: a process called Phajaan. Phajaan in Thai translates to "to seperate" or "to break." In this instance, it is to break an elephant's spirit, to separate them from their spirit in order to submit to humans to be used for work. I'm sure a lot of you have seen some of the footage that people have managed to capture of elephants undergoing the Phajaan treatment. If you have ever rode an elephant you would have seen that the Mahout or "elephant trainer" was using a bull hook to intimidate and control the elephant. These bull hooks have sharp, pointy edges that need to be tough enough to pierce through the elephant's thick skin. These bull hooks are used on elephants from a young age, beating them where they are most sensitive - inside and around their ears. During the process of Phajaan, elephants are also kept captive in tiny spaces for days on end, often without food or water. Once the elephant has endured this horrific torture, they never forget the abuse they suffered at the hands of their Mahouts. This is how Mahouts continue to have complete control over the elephants for the rest of their lives.
Obviously, I had no idea about all this when I decided to ride that elephant. During the ride I had an inclination that everything perhaps wasn't as legit or as friendly as it seemed on the surface. I watched the Mahout use the bull hook on the elephant once or twice when it stopped for a small rest. Now that I look back, it all seems ridiculously obvious that there were red flags right from the start of that experience. I was blinded by naivety, my love for elephants and the thought of being able to actually climb on top and ride this monumental beast like Mowgli from "The Jungle Book." Whilst I do love elephants (as do most people), this was absolutely no way to display my affection or intrigue in such a spectacular animal. After the day was done, I returned to my hotel room and did some serious reading about elephant rides and Mahouts. Boy, did I feel like an utter twat. I sobbed, I cringed and I was bitterly disappointed in myself for succumbing to such a blatant tourist trap. I am writing this post in hopes that others will realize the experience of riding an elephant is 100 percent not worth the feeling of utter guilt and shame that comes with discovering the truth of that elephant's past.
On a trip to Thailand it was made clear that it is not just elephants that are used for rides that live a life of imprisonment and suffering. In my previous post, I mentioned a small "animal park" that allowed tourists in to the squalid conditions with these animals to take photos. The main attraction of this hell hole was a baby elephant - 3-years old and had been tied to a tree her whole life. The image below is the kind of body language she displayed the whole time I was there. The young calf was clearly distressed, broken and alone. I watched as tourists posed with her, not batting an eyelid at her blatant struggle.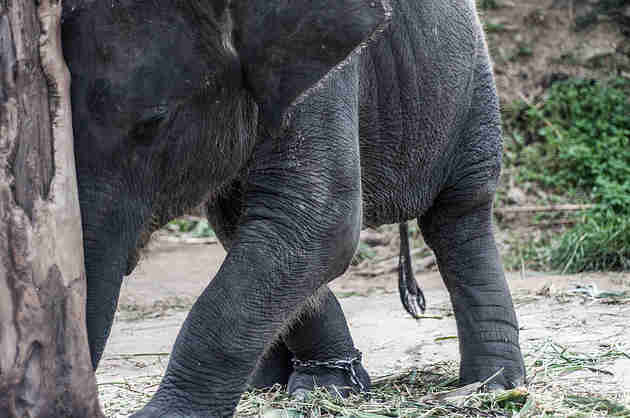 What can be done to help? Well, there are two very simple things that can be done to start helping.
One step at a time, one person at a time - we can end the suffering that these majestic creatures endure every day.