51 dogs were taken from Michael Vick's custody when his horrific dogfighting operation, Bad Newz Kennels, was busted in 2007. Levity Tomkinson is painting portraits of all of the dogs, and she's already one-fifth of the way done.
Tomkinson, a Kentucky-based artist and dog-lover, got the idea to illustrate all of Vick's dogs -- whether they were rehabilitated, adopted, sent to sanctuaries or euthanized -- after she graduated college, in 2010, and found herself without any good job leads. She started by painting her own dog, Rinlee, a pit bull mix not physically unlike many of the "Vicktory dogs." Around the same time, Tomkinson read an article about Vick's horrific dogfighting ring, and all at once the idea for what became the Re51lient Project came to her.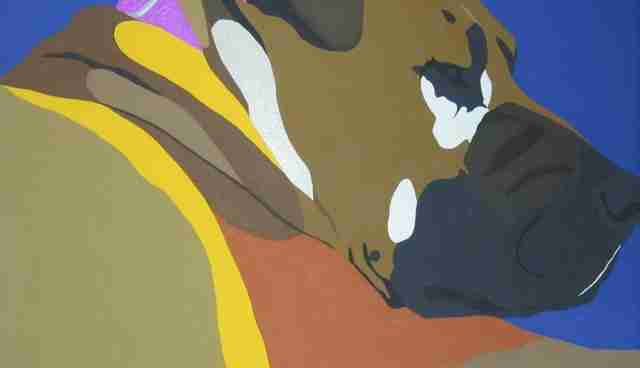 "I thought of the idea during a time in my life that was really unpleasant, where I was trying to find meaning and happiness and purpose again, and these dogs were absolutely a part of my healing process," Tomkinson told the Huffington Post. "They inspired me to be positive, to smile and look at the world and appreciate all different kinds of beauty and to let go of unhealthy emotions. I am forever indebted and grateful to these dogs for changing my life."