Kitten Wasn't Going To Survive ... Until She Met Her Dog Mom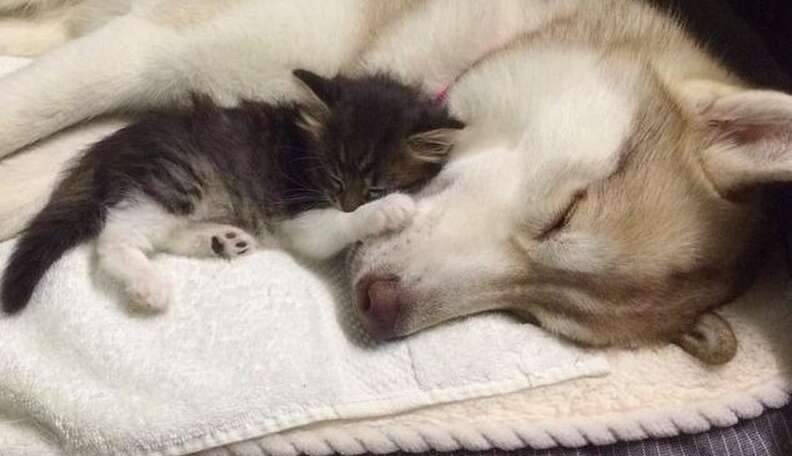 <p> Instagram/Lilo&Infinity </p>
<p> Instagram/Lilo&Infinity </p>
Lilo the husky lives in a house bustling with animals - she has a doggy sibling, a couple of kitties and some rabbits ... not to mention her humans. And recently Lilo's big family got a new addition - a little rescued kitten who needed some special attention.
Rosie was a tiny kitten in rough shape when she showed up at Lilo's house. "She almost did not make it through the first night ... Even with round the clock care. She was lethargic and limp. So we decided to go out on a limb and let her cuddle extensively with Lilo," Lilo's mom explained on her Instagram.
"By some miracle, she started suckling on Lilo and Lilo went full "mom mode". Even stimulating it to go to the bathroom ... (This was very shocking to me). Since then, Rosie's been getting much better and her eyes opened!"
Now Lilo and Rosie are inseparable. It's clear that this dog doesn't mind at all that her new puppy happens to be, well, a kitten.
With lots of encouragement from her both her doggy and human moms, little Rosie has been getting stronger every day. She even went out to explore the park for the first time ... but she didn't go too far from Lilo.
While it's not uncommon for animals to raise and nurture babies of another species, even Rosie and Lilo's human mom was shocked by just how close their relationship has become ... and by just how popular their relationship is with strangers.
She warned potential copycats on her Instagram account, saying "Huskies are notorious for their intense prey drive!! So please please don't run out and get a kitten (or a husky) expecting them to be best friends."
There must just be something very special about Lilo and Rosie, because the two clearly share a lot of love. And thanks to her doggy mama, Rosie has even begun to pick up some canine habits. Photos on Instagram show Rosie panting like a dog, walking on a leash, and hanging with the rest of the pack just like she's a husky.
Rosie might never have made it if Lilo didn't step in and give her the motherly love she needed. But now she's going to grow up into a healthy, confident cat ... with some dog-like tendencies.
Best of all, they each have a snuggle buddy every night.