Husband Surprises His Wife With Flowers — For Their Dog
"I thought they were for me at first, and then I read the card."
There are lots of little ways of showing those cherished people in our lives how much we truly care - like by surprising them with a beautiful bouquet of fresh-cut flowers. But for Debbie Cardone, whose husband had one such floral arrangement delivered to the house this week, it came as a different sort of surprise.
"I thought they were for me at first, and then I read the card," Cardone tells The Dodo. Her name wasn't written anywhere.
Turns out, they were for her husband's other sweetheart - the couple's lovable bulldog, Sebastian.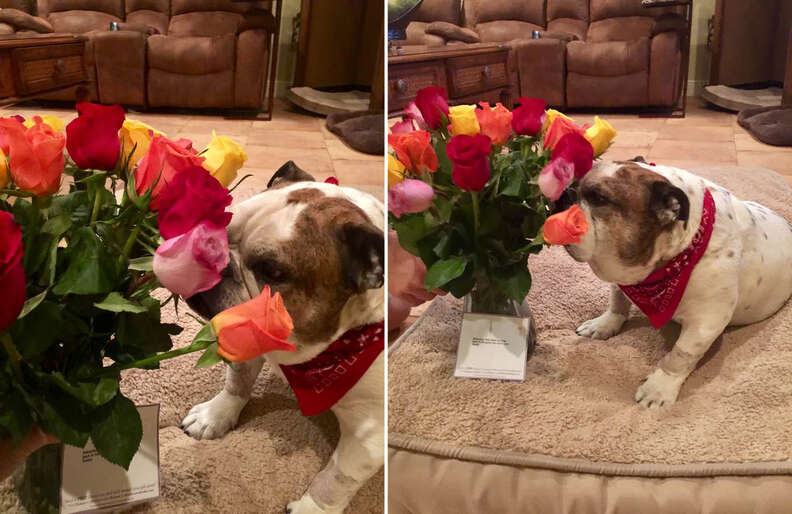 The pampered pup clearly appreciated the gesture, too. As Cardone explains, poor Sebastian hasn't been feeling himself lately as he continues to recuperate from a recent surgery.
"He had both knees operated on almost two weeks ago, and my husband works over in the Middle East, so he sent him flowers," she says. "He has about an eight-week recovery."
With the flowers were some sweet words of encouragement.
While Cardone certainly wasn't expecting that the flowers her husband sent would be for Sebastian, not her, she does admit she was warmed by the gesture, too. Well, as much as you might expect.
"I laughed," Cardone says. "I was having a bad day, so I just chalked it up to the continuation of my day. It was very cute though."
Very cute indeed.