Want To Hunt A Zebra? Go To Texas
<p><a href="https://www.facebook.com/LonestarPremierOutdoors/photos/pb.143714052503225.-2207520000.1441826708./332381856969776/?type=3&theater" target="_blank">Lonestar Premier Outdoors</a></p>
<p><a href="https://www.facebook.com/LonestarPremierOutdoors/photos/pb.143714052503225.-2207520000.1441826708./332381856969776/?type=3&theater" target="_blank">Lonestar Premier Outdoors</a></p>
Editor's note, August 23, 2022: In 2015, The Dodo was surprised and saddened to learn that trophy hunting facilities existed not only across the world, but also in the United States. This article shows how easy it is for the average person to arrange one of these concerning hunts. Graphic pictures and their related links have been removed.
To hunt a zebra, an American hunter would need to travel 8,000 miles or so to southern Africa, correct?
Nope.
Just head to the Lone Star state. A Google search with the keywords "Texas," "hunting" and "zebra" will spit out a gaggle of companies: Exotic Hunting & Fishing Adventures, Star S Ranch, Montgomery Properties Ranch, Squaw Mountain Ranch and Texas Hunt Lodge, to name only a few.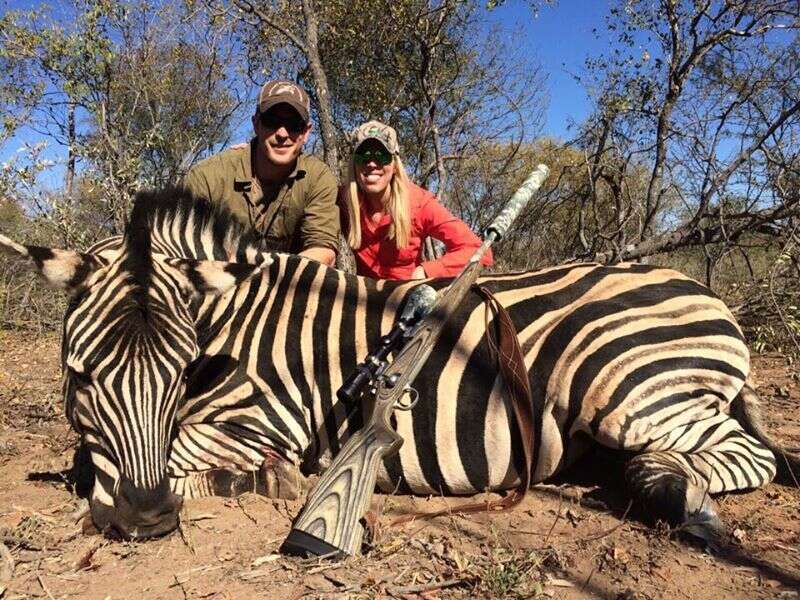 How much does it cost to hunt the animal? It depends on the facility. But one price tag is $5,750 for a Grant's zebra. However, there are also all-inclusive packages, which might incorporate transportation around the ranch, lodging and a stocked bar for after the hunt. In that case, the price is $6,000.
As the global debate continues about trophy hunting after the killing of Cecil, the lion in Zimbabwe, some may be stunned to know that trophy hunting of exotic animals takes place in the United States - on a daily basis.
According to Samantha Hagio, policy manager of the Wildlife Protection Campaign at the Humane Society of the United States (HSUS), there are approximately 1,000 canned hunt facilities in the U.S. (small or large facilities that confine the animals with a fence, for example), and half of them are in Texas.
But how did zebras or other exotic animals actually get to the state?
The first release of exotics onto Texas ranches occurred in 1930, when a group of nilgai antelope was released on the King Ranch in South Texas, according to the Texas Parks and Wildlife Department (TPWD). By 1988, exotic species were found in more than half of the counties in Texas, and over 90,000 of those animals were confined behind fences (this is the most recent data by TPWD).
Besides the zebra, there are scores of other exotics available to hunt in Texas, including the scimitar-horned oryx, which is extinct in the wild. In fact, some ranch owners say that if it weren't for conservation-minded hunts in Texas, certain exotic species would disappear altogether - and the monies paid to hunt them can be applied to ensuring the species' survival. (To read more on this argument, see: "Quandary on Texas ranch: Can you protect rare species by hunting it?").
Although it might be ethically compromising, it is legal to hunt zebras and other exotics in the United States.
The TPWD, whose mission is to "manage and conserve the natural and cultural resources of Texas and to provide hunting, fishing and outdoor recreation opportunities for the use and enjoyment of present and future generations," has little oversight on the exotic hunting industry in Texas, however. In fact, it has almost no control over the state's exotic hunting industry - which means data can be challenging to ascertain.
According to Steve Lightfoot, TPWD spokesperson, the agency does not inventory exotic game, nor does it know how many exotics are in Texas, how many ranches have exotics or how many ranches breed exotics.
Basically, exotic hunting in Texas is in the hands of private owners: It occurs on private lands and is maintained and overseen by private groups, such as the Exotic Wildlife Association (EWA). The EWA did not respond to multiple requests for comment.
What also might be confounding is that if the exotic animal isn't listed as endangered in the state of Texas, then the state does not have to provide it endangered status and the laws that govern such. So even though the scimitar-horned oryx is extinct in the wild, it is possible to hunt the animal in Texas because Texas does not have the scimitar-horned oryx on its endangered species list, explains Lightfoot.