Hunter Kills Endangered Wolf ... By Mistake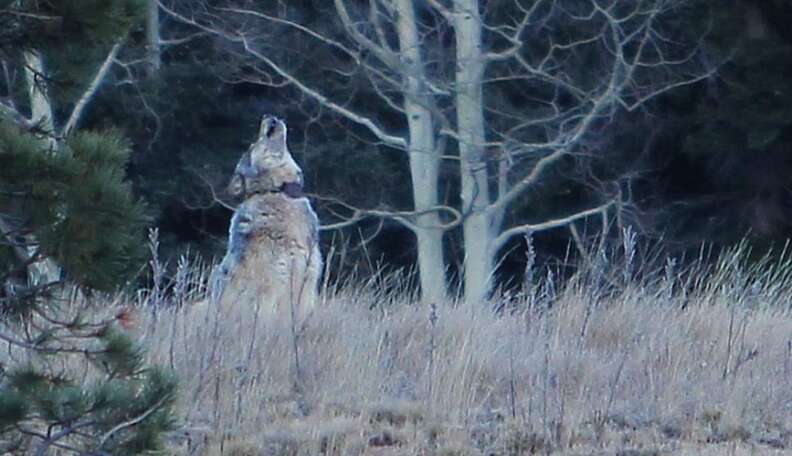 <p> <a class="checked-link" href="http://www.azgfd.gov/">Credit: Arizona Game and Fish Department</a><span></span> </p>
<p> <a class="checked-link" href="http://www.azgfd.gov/">Credit: Arizona Game and Fish Department</a><span></span> </p>
Near the town of Beaver, in southwestern Utah, a rare gray wolf is dead. The Utah Division of Wildlife Resources confirmed Monday that the wolf, a three-year-old female wearing a radio collar, had been confused with a coyote and was shot by a hunter.
"We are still investigating," DWR director Greg Sheehan told the Salt Lake Tribune, "but it seems initially that it was a case of mistaken identity."
The identity of the wolf is currently unclear, and the Utah DWR notes the case is under review. Though some biologists believe this dead wolf is wearing a different radio collar, according to the Tribune, conservation group the Center for Biological Diversity suggested that the animal is Echo. Echo, whose poop DNA indicates she's from the Rockies, was named in a December contest after she roamed into the Grand Canyon. Though the Grand Canyon is hundreds of miles away from Utah, such distances aren't out of reach for roaming wolves. Perhaps the most famous gray wolf, OR-7, has traveled thousands of miles since 2011 before finding a mate in May.
"It's heartbreaking that another far-wandering wolf has been cut down with a fatal gunshot," said the Center for Biological Diversity's Michael Robinson, in a statement. "This female wolf could have helped wolves naturally recover in remote regions of Utah and neighboring states."
Regardless of the animal's identity, conservationists agree that this loss is a blow to wolves in Utah. Kirk Robinson, director of the Utah wildlife organization Western Wildlife Conservancy, said the inadvertent killing of the wolf highlights problems with coyote hunting, as not only ineffective but risky to other animals.
In the Pacific Northwest, wolves are making something of a comeback. In July, cameras caught a glimpse of the first wolves born in the Oregon Cascade Mountains in over half a century. But the future of the American gray wolf is under constant political scrutiny. "While Utah does not currently have a confirmed population of gray wolves, we are prepared to manage responsibly any wolves that enter the state," Utah Governor Gary R. Herbert said in a June 2014 summary of Utah's delisting efforts.
Northwest ranchers have called to delist the wolf, citing potential harms to their livestock, though environmentalists and wolf supporters argue that a lack of protection could undermine the animals' return. And a recent study suggests that killing wolves to save farm animals simply results in more death.
The Utah Division of Wildlife Resources did not immediately respond to a call for comment.