Hungry Chameleon Stuck His Head In Olive Crate, Helped By Concerned Workers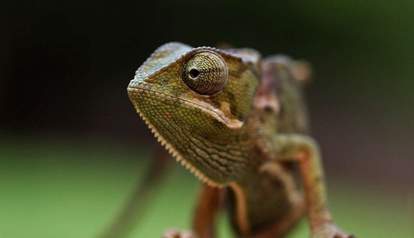 <p>paulshaffner / <a class="checked-link" href="https://www.flickr.com/photos/paulshaffner/311819468/in/photolist-tya4J-iWC3HY-ait4ZJ-foEDpV-9tCXZm-jPvyYX-fq8WKF-SYmX-gEDK3C-e4JN3M-kynqfH-p6DRJd-iC7Nmh-5oxi9j-e7eQsp-adVVhY-eb2q9T-nbDiu2-2seT2c-7dX5a5-agXgs2-g7Ag6R-cdBBzU-BAFYm-4N59SE-fbg8Kk-6eutvS-dMRfWz-ftUPn9-n9GqNq-hwPrmc-7dTbng-6x8KnQ-qmeKV-9AXjjL-hSgWye-aeuiy7-4QpSNz-aeov4F-6msa9a-dRdg66-4r5S3S-6uwAwE-5ZqZWN-nZRpJf-9uSWrm-2G8Urt-6hJZ2H-8xtpd-9g25xx">Flickr</a></p>
When workers at an olive processing factory were loading a 400 pound crate of olives to be sorted, they came across a surprise stowaway - a chameleon stuck in one of the crate's slats.
They halted the machine and gently pushed him through the slat, just before he would've been crushed by a mountain of olives.
(Oded Cohen / YouTube)
According to the video's description, the olive aficionado was released to a safe place nearby.