Humpback Whale Crashes Kayak Race, Wins (At Life)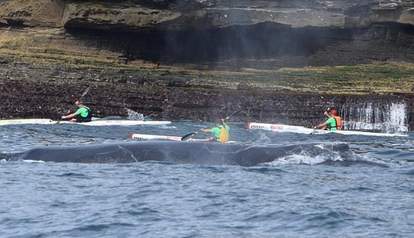 <p><a class="checked-link" href="https://www.facebook.com/ManlyOceanAdventures/timeline?ref=page_internal">Manly Ocean Adventures</a></p>
A kayak race hosted an unconventional contestant last Saturday, when a humpback whale showed up to swim alongside the paddlers.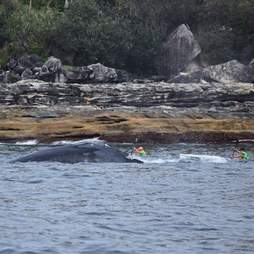 (Manly Ocean Adventures/Facebook)
Manly Ocean Adventures captain Blake Horton was watching the "King of the Harbour" race in Manly, Australia, when he saw the whale pop up mid-race among the kayakers.
"We were on a whale watching trip with a full boat of passengers and the whale ended up going in nice and close to the paddlers," Horton told the Sydney Daily Telegraph.
It's certainly not the only time kayakers have been lucky enough to be approached by a curious whale. This stunning footage shows an extremely close encounter - maybe too close - with a hungry humpback:
There are some 80,000 humpbacks left in the world today - down from a historic population of more than 100,000 individuals. Whaling hurt the population over the past century, while pollution, climate change, ocean noise, and ship strikes continue to threaten humpbacks today.
It is important not to approach wild whales - like any wild animal, contact with humans can be dangerous, both for us and for them. See this page for information on responsible whale watching.