A hummingbird who had gotten thoroughly lost on his annual migration south has been put back on track to his long journey to warmer weather, all thanks to a pilot who was kind enough to give the little bird a free lift via private plane.
When bird-lover Tina Wall of St. Paul, Minn., first spotted the conspicuously copper-colored rufous hummingbird feasting on her front yard bird feeder earlier this month, she knew that something was amiss. The tiny bird, weighing about the same as a penny, is rarely seen outside of the Pacific Northwest, where they spends the summer breeding before migrating south to Mexico - so it was clear that this bird was many, many miles off course.
And with a cold front fast approaching, Wall was well aware that he probably wouldn't last for long.
Fortunately, she was able to capture the wayward new arrival in a rescue cage, after which she placed him in the caring hands of experts from a nearby clinic, the Wildlife Rehabilitation Center of Minnesota (WRC).
When The Dodo spoke with WRC director Phil Jenni a few days after the rescue, the hummingbird's condition was stable, but his future was still uncertain.
"The bird is in pretty good shape," said Jenni. "He is underweight, but we're getting him up to typical migration weight. Now we're trying find him a lift home."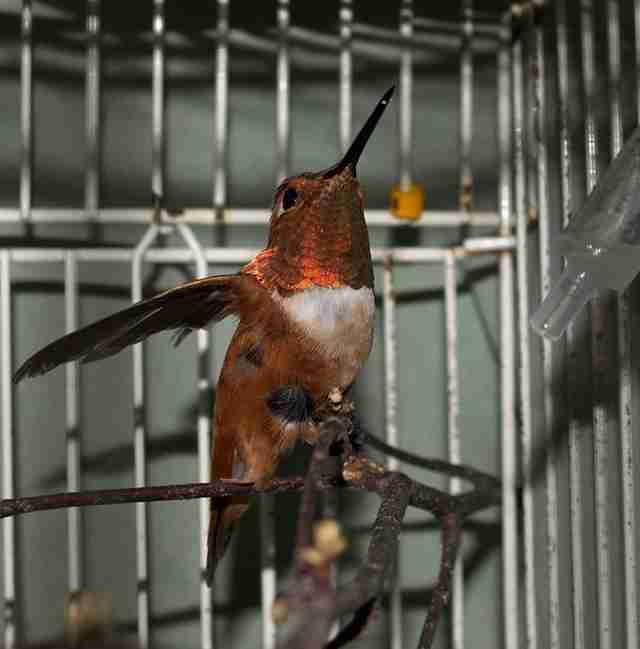 Jenni said that rufous hummingbirds are an exceedingly rare sight in Minnesota, particularly this time of year. In fact, as the Star Tribune points out, there have been only 16 documented sightings of the birds in the state since the 1970s.
So how did this little bird come to find himself in Wall's backyard? Jenni believes he was blown in by strong winds from a typhoon in the Pacific a week or so earlier.
Given the rarity of the hummingbird's visit, there was some debate among experts about just what to do with the bird, whether to relocate him or set him free to find the way back home on his own. Ultimately, after consulting officials from the US Fish and Wildlife Service, it was decided that the wayward bird be given a lift south - and in style, too.
"While the bird had no obvious injuries it was considered underweight for migration which was complicated by the onset of extreme and unusually cold weather," writes the WRC. "We're grateful that an anonymous partner stepped forward and transported it to Texas by private jet."
The rescue center reports that the bird was then successfully released to continue his way to wintering grounds in Mexico.
It was a long order for rescuers, and a longer ordeal for the hummingbird himself - but thankfully, one with a happy ending, the WRC writes:
"We are delighted that the rufous hummingbird is free in the wild and able to decide when and where he goes on his life's journey."