This Is What It Looks Like To Have Your Pet Taken Away From You
Sometimes, it takes just one just one picture to illustrate the random misery that breed-specific legislation inflicts on people's lives.
Like this one.
Dianna Helmers
Dianna Helmers
That's 86-year-old Bev Chaplin, shortly after hearing that she could lose her dog Susie to a pit bull ban.
The two had come a long way together. When her grandson was killed in a car accident in 2010, Chaplin began taking care of Susie.
Susie was even being trained as a service dog, helping Chaplin get out of her chair, and on occasion, getting her back on her feet after she had fallen.
Last June, Hubbard, Iowa, mayor Marshall Simmerman ordered Chaplin to send her best friend out of town, or surrender her to animal control, where, like thousands of dogs deemed pit bulls, Susie would likely be put down.
There had been no complaints about the dog.
But Hubbard is among too many cities and counties across the U.S. that ban pit bulls.
Or American Staffordshire terriers. Or English bull terriers. Or any dogs that bear a resemblance to pit bulls.
Chaplain suffered a stroke after hearing she might lose Susie.
But she decided to fight, challenging the breed ban in court as unconstitutional.
This week, while her legal battle was ongoing, the city council voted in favor of repealing Hubbard's breed ban.
Dianna Helmers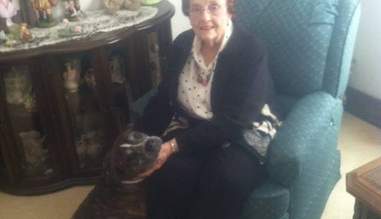 Dianna Helmers
"The repeal in Hubbard is a win for all citizens who want to live in Hubbard who now have the American freedom of choosing whatever dog they enjoy most regardless of breed," Jaysen McCleary, a lawyer and founder of Bela Animal Legal Defense and Rescue, told The Dodo.
McCleary, along with longtime breed ban opponents Amy Haas-Gray of Hardin Eldora Animal Rescue Team (HEART) and Dianna Helmers of Agape Fosters have championed her cause from the start.
"As a lifelong resident of this state that considers animals in general disposable and a strong advocate for animals my whole life, it's always a good feeling to see the animals win in any manner," Helmers told The Dodo.
For McCleary, who made frequent appearances on Chaplain's behalf at the Hubbard County courthouse, it's deeply personal.
He's waging a long, costly legal battle with Des Moines authorities, who want Jimmy, a dog he adopted, registered as "vicious" - although the city of West Des Moines reversed its earlier declaration that Jimmy was vicious after a professional evaluation.
Jaysen McCleary
Jaysen McCleary
"This is despite the ruling that the ordinance is unconstitutional, and a DNA test which indicates he is not a majority of the 'pit bull' breed," McCleary says.
Jaysen McCleary
Jaysen McCleary
But McCleary, like Chaplain, has no surrender in him.
"Instead of breaking up families based on breed-specific legislation, animal control should declare dogs vicious or dangerous based on one thing - whether the dog has bitten someone without provocation.
"That would help end some of the senseless killing of family pets," he adds. "Unlike the City of Des Moines who contend that provocation is irrelevant."
Indeed, breed-specific legislation hasn't shown any sign of improving public safety.
Only public misery.
Learn how you can join the fight against breed-specific legislation here.