Rescue Puppy Who Couldn't Walk Finally Gets His Own Wheelchair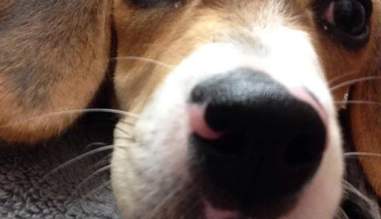 Facebook/How's Howie
Facebook/How's Howie
What was even more shocking than the conditions was the fact that Howie could not walk. "We were advised the puppy had been paralyzed since birth," Lieutenant Tommy Tolley, director of the APS, told The Dodo.
Despite Howie's disabilities, Sheriff's Office Captain Mose Highsmith and his wife volunteered to be a foster family for the little puppy. By late May, Howie had found a home and an entirely new life with them.
Facebook/How's Howie
Though Howie will need special care throughout his recovery, the Highsmiths seem more than pleased to give Howie all the attention he needs.
"It's not a matter of why did we want to foster him, it's like we were the lucky ones that got to," Captain Highsmith told Star News Online. "You can't look at that little fella and not want to foster him."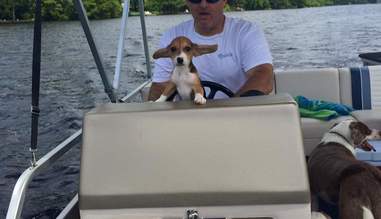 Facebook/How's Howie
Facebook/How's Howie
"He has adjusted to it very well," Tolley said. "He is very fast, and has learned to navigate around objects and back out of tight places."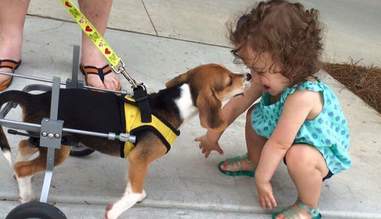 Facebook/How's Howie
Howie has no feeling in his back legs or feet due to a fractured vertebra and has been doing physical therapy five days a week to potentially help him walk on his own.
Facebook/How's Howie
His sessions start in the mornings with swimming exercises and shift to "land" exercises in the afternoon - they are meant to increase Howie's strength, coordination and muscle memory.
"He has made very noticeable progress," Tolley said. "When we first got him on May 21, he could not stand at all and dragged his back legs at all times. Now he can stand. He generally stands when he eats. He can now take three to four steps with his back legs before losing balance."
Facebook/How's Howie
As far as adoption goes, Tolley says, the plan currently is to get Howie to be the best dog he can be - and then consider a potential forever home.
Facebook/How's Howie
For now, Howie's enjoying life to the fullest, pampered with plenty of new friends ...
Facebook/How's Howie
Facebook/How's Howie
... and of course, nap time.
Facebook/How's Howie
"His personality, and his determination, make us smile every day," Tolley said. "Even when we are cleaning up behind him."
Facebook/How's Howie
Facebook/How's Howie
Check out this video and see just how fast Howie is on his wheels: