How You Can Help Fund A Retirement Home For Research Chimps
<p><a class="checked-link" href="http://www.chimphaven.org/">Chimp Haven</a></p>
In Keithville, a small rural community in northwest Louisiana, among the stretches of farms and shale oil fields lives a colony of 207 chimpanzees. Half of the chimps are infected with HIV, and many are elderly. The 200-acre community is the only one like it in the world - and the only safe haven for the country's hundreds of lab chimpanzees.
Chimp Haven, opened in 2005 as the National Chimpanzee Sanctuary, has been receiving an influx of retired chimps since the National Institutes of Health (NIH) announced that it would begin to phase out its chimp research program roughly a year ago. The animals had been bred and used in labs for research on AIDS and hepatitis. But, as it turns out, they were less than useful as lab subjects - in the case of HIV infection, chimps can become infected but don't show symptoms of the illness, making them difficult to study.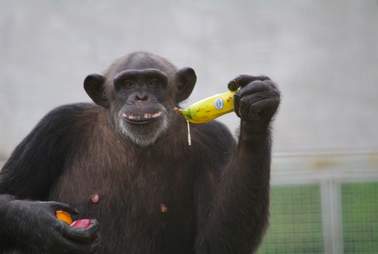 (Chimp Haven)
Now, with the population at Chimp Haven topping 200, quarters are getting cramped at the sanctuary. By the estimation of Cathy Willis Spraetz, the CEO and President of Chimp Haven, the colony needs to build new structures for the hundreds of chimps waiting in labs for new homes.
(Chimp Haven)
"One of things that limits us is space for chimps," she said. "Right now, we can take about 22 additional chimps. But at a cost of $40 a day each, that's an expensive feat."
This is where actress and director Alison Eastwood, daughter of Clint Eastwood, comes in. "When I heard that these medical chimps were being retired from labs, I wondered, 'how can I help?'" Eastwood told The Dodo. "At the same time, I also met the founders of Loveanimals.org [a crowdfunding site for animal causes]. I'd always thought crowdfunding campaigns were awesome. We all decided we'd get together to put out a campaign to help chimps."
Eastwood created a fundraiser on Loveanimals.org calling on people to donate to provide funds for the daily care of chimps at the sanctuary.
The proceeds will cover daily feeding, medical care and expenses for toys and caretakers. As the tide turns on the use of chimpanzees for medical research, Eastwood hopes that the sanctuary will provide a welcome respite from the animals' elderly years.
"These poor creatures that are so much like humans are subjected to unspeakable treatment, and living in such unnatural conditions," she said. "They're very close to us in our DNA, and they exhibit so much humanlike behavior - they're our ancestors in a way. It made me think, 'What if people were being held like that?'"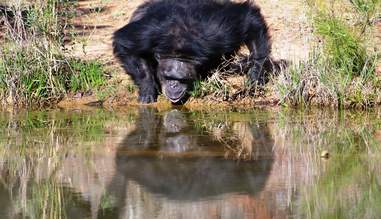 (Chimp Haven)
"Chimp Haven is privileged to have supporters from around the world who are willing to share our sanctuary's mission with others and help us raise the funds needed to care for these amazing animals," Willis Spraetz of Chimp Haven said. "We are deeply grateful to individuals like Alison Eastwood who believe in, and have become ambassadors for, this great work."
Donate to Eastwood's crowdfunding site here.