How We Saved India's Dancing Bears
<p><em>Wildlife S.O.S.</em></p>
Giving 627 bears the chance to live on all fours by helping a poor Indian community get on its feet.
These are dancing bears.
Wildlife S.O.S.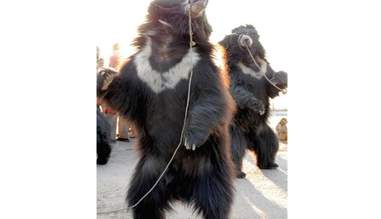 In 1995, we started working on a two-year investigative research project to try and find out what was going on, because the sloth bears in the wild were obviously getting depleted because of a practice by the Kalandar community. They are a marginalized Islamic community who live across India, and have been in India since the thirteenth century.
We went about getting evidence of what was going on, using a hidden camera in a shirt button. We went in, pretending to be buyers. And we found this right in this very state, in Karnataka.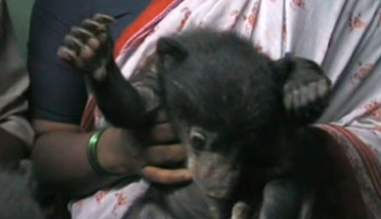 Sloth bear cubs were being harvested from across the country and being sold and traded. These were being sold for about $2,000 each, and they are used for bear paw soup, and also being trained, later on, to become dancing bears like the one above.
Sadly, the family of Kalandars depended on this bear for their livelihood. The couple below is barely 18 years old. They already have four children. The economy of their family depended on these bears.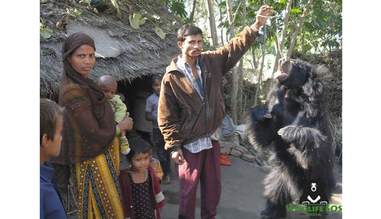 Wildlife S.O.S.
Now we had to start changing these people and converting them from using that for a livelihood, to getting something else. Bitu Qalandar was our first experiment, and we were so unsure that this would work. We weren't sure at all, but we managed to convince him. We said, "Okay, here is some seed funding. Let's see if you can get something else," and we got the bear surrendered to. We set up a sanctuary. (We have four sanctuaries in India.) Now Bitu sells cool drinks by the highway. He has a telephone booth.
Wildlife S.O.S.
And then it started, there was no turning back after that. There was Sadua who came and surrendered his bear. Now he runs a cattle fodder store and a grain store near Agra.
Then there was no looking back at all for us.
We gave cycle rickshaws. We set up carpet-weaving units and vocational training for the women. The women were not allowed to come out of the community and work with mainstream society, but we were able to address that.
Wildlife S.O.S.
Education. The kids never went to school. They only had Islamic education, very little of it. And they were never allowed to go to school because they were an extra earning hand at home. So we managed to get education. We sponsor 600 children education programs today. We were able to ensure brighter futures for these people. Of course, we also had to get the bears in.
We have a veterinary facility in our rescue centers. In 2002 there were 1,200 dancing bears. We rescued over 550 dancing bears. We've been able to ensure better futures for the people and the bears.
Wildlife S.O.S.
Four years ago, we brought back in the very last dancing bear of India into our rescue center.
India will no longer have to witness this cruel barbaric practice which has been here for centuries. The people can hold their heads up high. And the Qalandar people will rise above all this cruel barbaric past that they've lived all their lives. And the beautiful bears can of course live in the wild again. There will be no more removing of these bears, and the children, both humans and bear cubs, can live peacefully.
Wildlife S.O.S.
This piece is adapted from my TED talk "How we rescued the "dancing" bears" which has been viewed over 340,000 times in 30 languages. Watch the whole talk here or below: