How We Can Save America's Endangered Species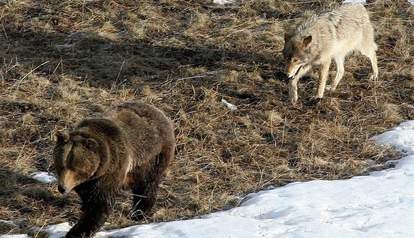 <p> skeeze / <a href="https://pixabay.com/en/wolf-bear-predator-natural-519226/" target="_blank">Pixabay</a> (Public domain) </p>
The Endangered Species Act is one of the world's most effective wildlife protection laws. More than 1,300 imperiled species of plants, fish, and wildlife in the United States - including the gray wolf - have been protected by the ESA. The Endangered Species Coalition reports that only ten species have gone extinct since the ESA became law.
The ESA was passed more than 40 years ago with bipartisan support. But now, reports the Center for Biological Diversity, right-wing politicians are pushing:
"A new raft of sneaky laws that would end federal protection of wolves in Oregon, Utah, Washington, Arizona and New Mexico, turning the west into a minefield for wolves who could be shot, trapped and poisoned simply by stepping across a state line. There are only 155 wolves left across more than 250,000 square miles of the west - these social animals would be under constant threat as they migrate, seek mates, start families and struggle to reclaim their historic range."
The attack on the ESA is ferocious. The Defenders of Wildlife wrote recently:
"More than 80 bills, riders and amendments weakening the Act have already been proposed by this Congress. And, no less than 16 of these anti-ESA measures were adopted as riders or amendments to the Fiscal Year 2016 House and Senate bills funding the Department of the Interior and other federal agencies. These measures attempt to block or remove protections for individual species and undermine key sections of the ESA."
In June a coalition of conservation and scientific advocacy groups briefed the House Natural Resources Committee on the importance of the ESA. Sponsoring the briefing were:
American Bird Conservancy
Audubon
Center for Biological Diversity
Defenders of Wildlife
Earthjustice
Endangered Species Coalition
International Fund for Animal Welfare
Natural Resources Defense Council
Sierra Club
Union of Concerned Scientists
Wildlands Network
WildEarth Guardians
Rep. Raúl M. Grijalva, ranking member of the Committee on Natural Resources hosted the briefing and later commented. "It's unacceptable that certain Members of Congress are using their personal political agendas to undermine this bedrock environmental law."
What can you do to keep the ESA from going extinct?
1. Follow any of the links below to send a letter to your representative, telling them to save the Endangered Species Act.
2. Check with your preferred wolf conservation organization to see if they use contributions to help pay for the fight to save the ESA. If so, contribute what you can.
3. Share this post with your friends so that they can get involved.
Rick Lamplugh is a wolf advocate and author of the Amazon Bestseller "In the Temple of Wolves: A Winter's Immersion in Wild Yellowstone." Available as ebook or paperback. Or as a signed copy from the author.
Top photo: grizzly and wolf - both benefited from the ESA