How To Prevent Next Year's Dolphin Hunt In Taiji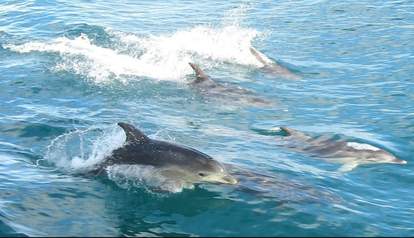 Though Taiji's controversial dolphin slaughter has finally wrapped up for this season, the hunt is likely to continue again next season, beginning in September. This year alone, about 1,400 dolphins were driven into the cove. Of those, an estimated 800 were killed and 164 taken captive.
Now, conservationists are looking towards next year, in the hopes that the slaughter can be stopped. Sea Shepherd mentions boycotting whale and dolphin shows as one of the most important ways to end it, because the demand for captive animals is the biggest motivation for the fishermen.
"As our Cove Guardians have documented time and time again, the global captive industry is linked to the slaughter in Taiji, and one of the most important ways for people to help end the hunt is to stop supporting captivity," said Jennifer Mishler of Sea Shepherd. "Anyone can help by not buying tickets to aquariums and marine parks that have captive marine mammals or swim with dolphin programs."
There are a lot of things you can do to raise awareness about the hunt, and help to prevent it from happening next year. Visit Sea Shepherd's site to learn more about the issue, or to view volunteering opportunities. You can also spread the word on Facebook and Twitter.
See this post for other ways you can voice your opinion about the dolphin slaughter. You can also continue to pressure authorities in Japan and in other countries, asking them to urge Japan to take action. Call and write to the authorities in Taiji as well as the Japanese Embassy in your country, the U.S. Embassy to Japan, U.S. and Japanese Ambassadors to the UN and the U.S. Senate members of the Committee on Foreign Relations, among others -- all of their contact information is on this page. The organization Save Japan Dolphins is also urging people to contact the World Association of Zoos and Aquaria, to push them to speak out against aquariums that own dolphins taken from drive hunts.
If you want to donate to this cause, Sea Shepherd, Save Japan Dolphins and the International Marine Mammal Project are all working towards preventing next year's hunts.
You can also sign the petition below and join The Dodo in demanding that Prime Minister Shinzo Abe take the appropriate steps to ban this practice immediately.