How To Move To Another Country And Bring Your Pet
It can be complicated, but it actually isn't that hard.
So, you want to move to another country?
Even if the idea has only just now crossed your mind (or within the past 48 hours or so), in all seriousness, living abroad can be a wonderful, eye-opening and mind-broadening experience.
If you have pets, there's just one problem: How do you bring them?
The Dodo did some research and asked Pet Relocation and the Humane Society of the United States (HSUS) for tips for people who are serious about taking some time away from the U.S. While requirements vary by destination (and required pet quarantines do still exist in some places, so aim for destinations where you won't have to be separated), there are some things that you most certainly will have to do.
Getting the right travel crate, and getting your pet to love it
If you're planning on flying far, far away, you'll need a safe and comfortable travel crate for your pet. Measure for the correct size - see this list as a guide for a dog; for a cat, a good rule is to add 4 inches to your cat's height and length to determine a carrier size.
If you already have a sense of where you're headed, check with the airlines about whether to get a hard or soft-sided crate.
Start crate training (for more on this, see here for a dog or here for a cat). Ultimately, the goal is to give your pet good associations with the crate so that he feels comfortable spending some time there. So, keep the treats coming.
HSUS recommends crate training for at least a month beforehand, if possible.
Getting the right documents
So now that you've got the gear, and your pet is finally warming up to the idea of becoming an expat, it's time to research the destination country's requirements. Check out this resource from Pet Relocation, which keeps country requirements updated weekly. Then, visit the vet for a few key documents and discuss any health-related questions you have with your vet.
1. The rabies vaccine. Even if your pet has had a rabies vaccine in the past, you'll need to make sure it's in the right timeframe before you depart.
For instance, if you're thinking of moving to Canada, the rabies vaccination must be more than 30 days old but not more than 1 year old, if you got your pet a one-year vaccination, and not more than 3 years old if he got a 3-year vaccination.
2. International health certificate. To get your furry family member ready to be an expat, you'll need to get him a special health certificate from the U.S. Department of Agriculture (USDA).
An international health certificate for your pet must be filled out by an accredited veterinarian, and then endorsed by one of the USDA's veterinary services area offices.
But that's just to get your pet out of the U.S.
"Your destination may have other specific health requirements for entry of animals," the USDA explains. "These requirements are established by the importing country, not the United States."
3. Printed health records. It's a good idea, even with the health certificate, to bring a printed copy of your pet's health records, should any questions or concerns come up. And some places require it, on top of the international health certificate - even Canada.
4. Microchipping and ID tags. While not all countries will require microchipping, some places, like Canada, recommend it. Microchipping, even if you aren't traveling, is something you should do anyway.
ID tags are also a good idea, in case the unthinkable happens and your pet gets lost, especially during flights.
The HSUS says to get a collar that can't get caught in crate doors and make sure it has your name and an address and telephone number where you can be reached. The HSUS also recommends bringing a current photo of your pet along with you, especially if he has to travel in the cargo hold.
Now you're itching to get out of here and bring your pet with you, but first a few final and important steps:
1. Check breed bans. Whether or not we like it, some breeds are banned from entering certain regions. For example, Montreal has threatened thousands of pit bulls with a ban that has now been suspended indefinitely. It's always good to check whether your dream expat destination has any of these laws in place.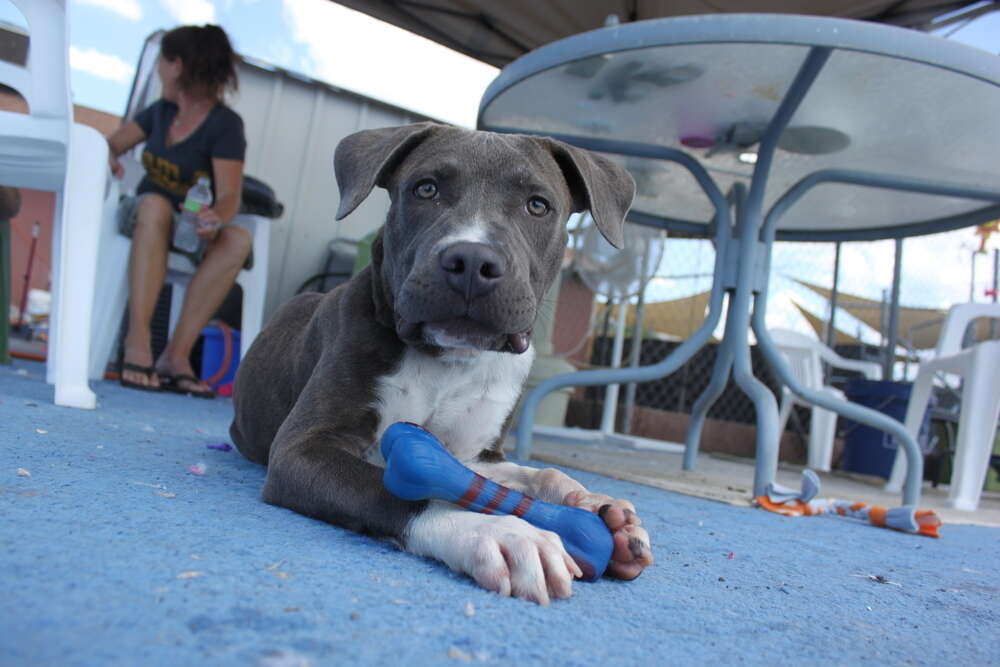 2. Check airline requirements. You may have satisfied your new country's requirements for your pet to live abroad - but you still need to get there. And airlines vary on what they require before you and your pet take off.
It varies a lot, airline to airline, whether you will be able to travel with your pet in the cabin on international flights, which the HSUS recommends.
The HSUS recommends that you ask the airline:
Whether they allow a small cat or dog in the cabin with you,
Whether they require any special health or immunization requirements,
Whether the airline requires a hard-sided carrier or if a more comfortable soft-sided carrier will do
If you must put your pet in the cargo hold, make sure your airline doesn't have a track record of pets getting injured. Most U.S. airlines are required to report all animal incidents that occur in the cargo hold, HSUS says: "Consumers should study the performance record of any airline before choosing to fly your pet in a cargo hold."
Check this list to see a breakdown of requirements by airline. And double check before your trip to make sure these requirements haven't changed. Pet Relocation specifically recommends KLM, Lufthansa, Qantas and United for flying with pets.
Also, budget for a pet ticket - this fee also varies.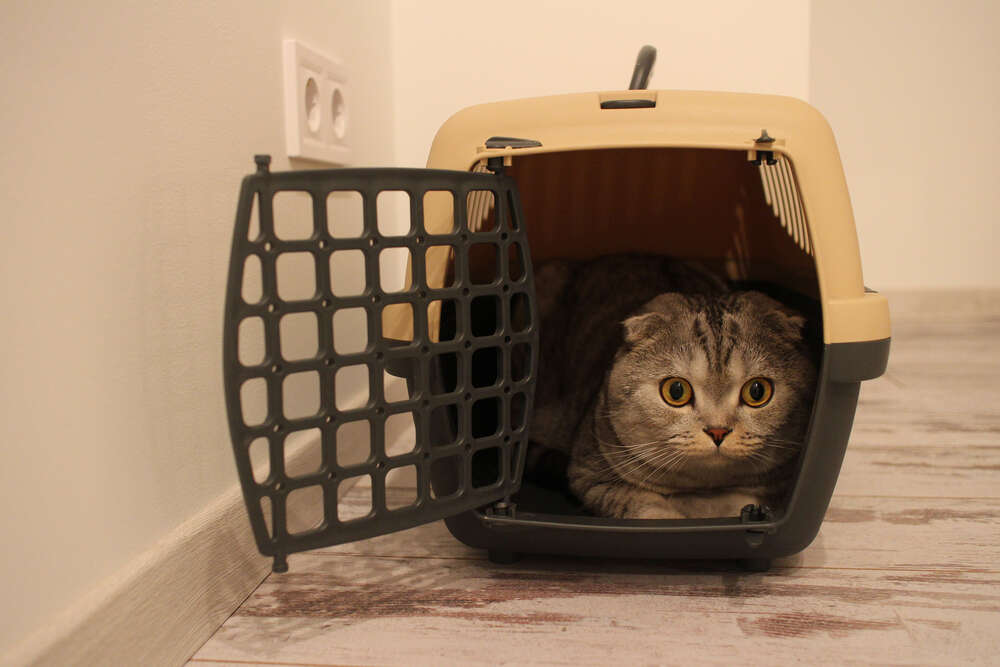 3. Keep your pet safe during the flight. To make sure your pet will get through the flight safely, you should consider a few factors.
*If you have a bulldog, pug or Persian cat - an animal with a scrunched face - air travel can be particularly dangerous because their nasal passages are narrow and thinner air could cause oxygen deprivation, according to the HSUS, so you should consider alternatives. If you MUST fly, never put them in the cargo hold. (Canada is luckily just across a border, so you could potentially drive there.)*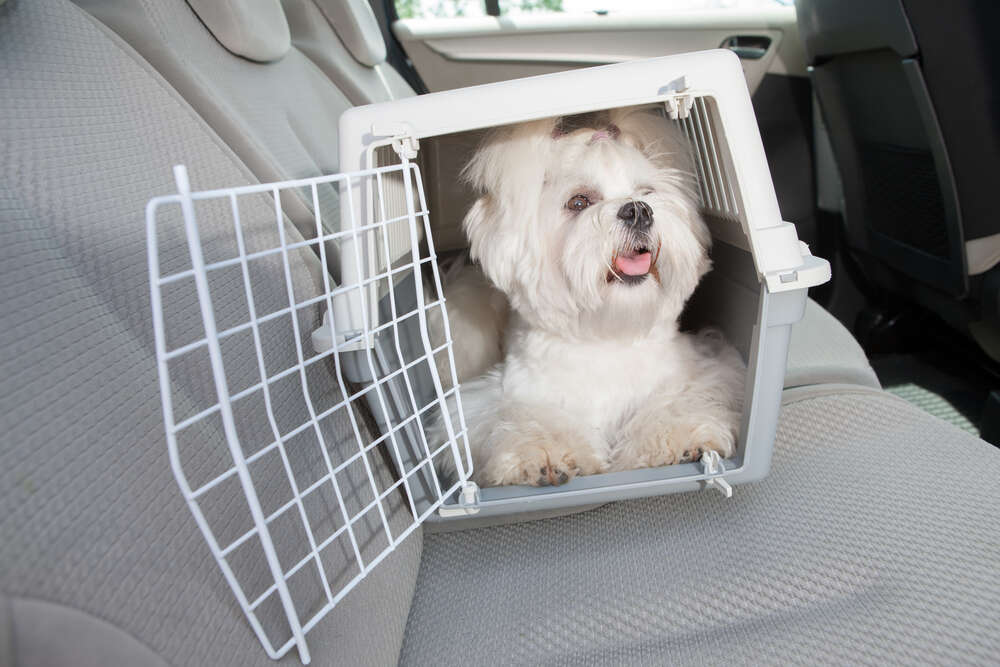 The HSUS recommends the following to keep your pet safe during the flight:
Avoid traveling during extreme temperatures. If you're traveling in the summer or winter, choose times of day when the weather is more tepid.
Avoid busy travel times, like the holidays and the summer.
Use direct flights to avoid pets getting misplaced or lost on connections.
Travel on the same flight as your pet.
Stop feeding your pet four to six hours before taking off. Given them small amounts of water inside the crate, so if it spills they won't be uncomfortable.
Clip your pet's nails so they don't get caught on anything.
Don't use tranquilizers unless your veterinarian prescribed them.
When you board the plane, notify the captain and a crew member, and say whether the pet is in the cabin or in the cargo hold. "If the captain knows that pets are on board, they may take special precautions," HSUS says.
Label the crate with your name, address, telephone number, final destination and where you can be reached once you get there.
As soon as you arrive and in a safe place, open the carrier and examine your pet to make sure he's OK. If anything seems wrong, visit the vet.
So, there are a lot of steps involved in moving to another country with your pet, but nothing insurmountable. If you start planning now, you should be good to go by January.