How To Adopt A Purebred Dog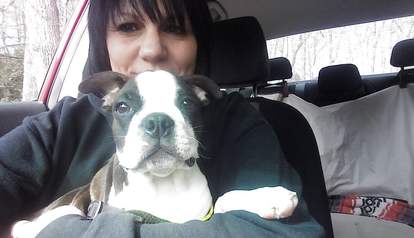 When my Boston terrier mix, Murphy, died a few months ago, I was heartbroken but knew I would adopt again. I also knew I wanted a Boston terrier because I had grown up with one and I love their temperament. And I knew a puppy would be more easily accepted by my dogs, who tend to be reactive when introduced to adult dogs. I thought it might be difficult to find a purebred puppy available for adoption.
I started searching, expecting it to take weeks, even months, to find this puppy. I actually found exactly what I was looking for 21 days later: A purebred Boston terrier puppy, ready for adoption.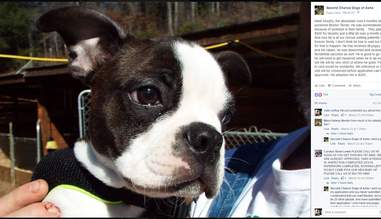 The original post about Clutch that popped up on my page

| Petra Giles
Clutch's gotya day - a mere 22-hour round-trip drive

| Julie LeRoy
If you find yourself yearning for a purebred dog or puppy, there's nothing wrong with that. I suggest a couple of things: Research the breed to be sure the temperament of the breed matches your expectations. Then, search for one to rescue.
Clutch is the third purebred dog I've adopted, in addition to my Rottweiler mix and my basenji mix and, of course, my Boston mix. Just remember, you may start your search with one type of breed in mind and find yourself falling in love with a mutt!
All of the purebred dogs pictured in this story are proof that dogs of all breeds end up homeless. Daphne the dachshund was adopted from HeartsHerd Animal Sanctuary in New York.
Melissa Stafford
Josh Feeney Photography
Elton, a black Lab pictured here with his human, Sarah, was adopted through Labs4Rescue in Connecticut.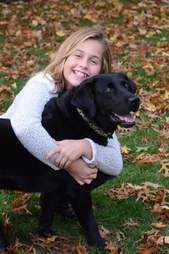 Beth Fridakis
Sara Jensen was looking for a Gordon setter and found Annwnn, who spent her first five years chained to a tree before being rescued.
Sara Jensen
Yaddo, an elkhound, adopted by Alissa Barnett Moshier through Peppertree Rescue in New York.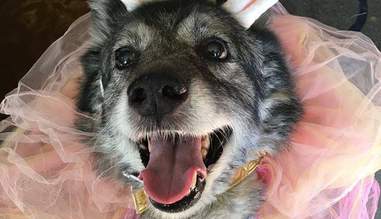 Alissa Barnett Moshier
Gemma Zankowski was fostering Dylan through Arizona Poodle Rescue when she fell in love with him and kept him forever.
Gemma Zankowski
My son, Joe Marchese, found his American pit bull terrier, Theodore, through Animal Farm Foundation in New York.
Julie LeRoy
Why are there so many purebred dogs in shelters? People tend to choose the breed they want by appearance. Sometimes, they'll find the breed they've chosen is too active or grows too large. They don't realize that a particular breed doesn't work with their lifestyle and end up surrendering the purchased dog to a shelter.
As a whole, purebred dogs end up in shelters for the same reasons mixed breed dogs do. People are moving to a place that won't allow dogs; a new baby arrives; divorce, death or illness come between owners and their dogs. And as organizations like the Humane Society of the United States and the ASPCA shut down more puppy mills, purebred dogs end up in shelters and rescues. There are far too many breeders who recklessly overproduce their dogs in order to make a higher profit.
Ready to adopt your next best friend? Here are some sites that can help you get started with your search:
And if you're seeking a specific purebred, check out: